We all know the feeling when you reach the end of the month and question where all the time went and what you had ever accomplished. You may have found yourself working on tasks that made little progress toward your larger goals. In order to succeed in your goals and desires, living month to month with intentionality is important. This is why I believe that developing a habit of monthly planning will be a game-changer in your routine. It is important to you to achieve your goals and progress every month. Not only this, but planning reduces the likelihood of procrastination, therefore, saving you tons of time. To find out how you can compose monthly plans keep reading.
Before getting started with your monthly plans, review the previous month
Taking the time out to reflect on prior months will help you become increasingly self-aware about the choices you made and how you used your time. This helps you to make the necessary adjustments and improvements for the month that will help you facilitate growth on a monthly basis. Whilst doing this, it's the perfect time to assess your current habits, routines, and schedules. What went well and is there anything that can be improved? Were you able to achieve everything you set out to do in the first place? If not, how can you ensure you do it next time? This is the time to be completely transparent with yourself.
Set your goals for this month first and understand the reasons behind them before you begin your monthly planning
In addition to setting yearly goals, it's important to set monthly goals that help you to stay on track and remain focused while you work towards your larger goals. By clearly outlining what you intend to achieve for the month ahead, you will work towards making each day intentional and boosting your productivity. Compose a monthly checklist that will help you track and monitor your progress on a monthly basis. Additionally, seeking to understand your reasons behind why you are working towards each individual goal will keep you motivated as achieving goals brings a sense of fulfillment.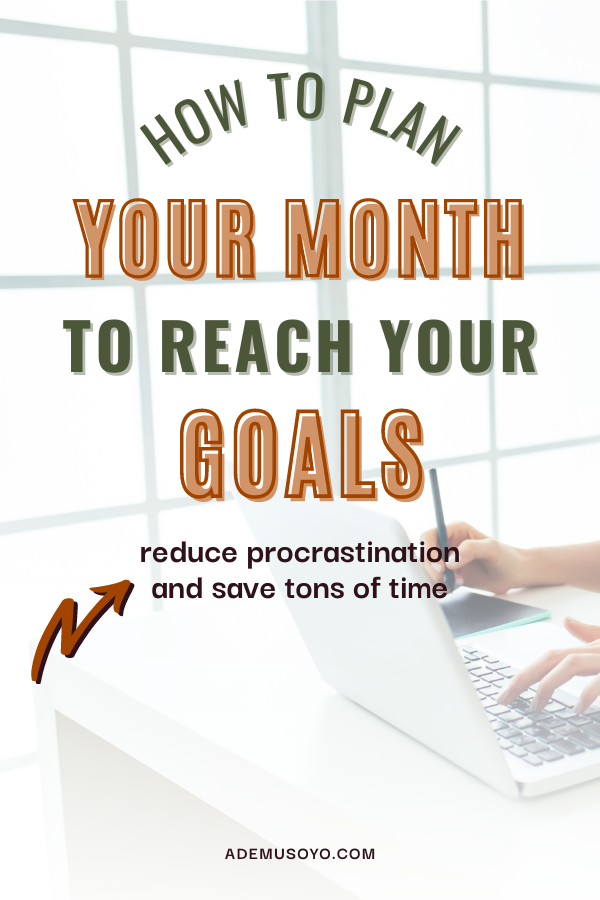 Your monthly plans should outline how you will achieve your goals
Solely writing down your monthly goals is not enough to achieve your goals on their own. Oftentimes, they are more achievable when you write out how you will achieve them alongside setting a date place, and time, author James Clear emphasizes this in his book 'Atomic Habits'. Setting goals and setting out to achieve them are quite like building habits which is why the two are comparable. Establish what days in each week you set out to achieve each goal and how you will go about them to hold yourself accountable weekly.
Review your budget plan
One of the best philosophies I've heard is "What doesn't get tracked, doesn't get managed." It's crucial to monitor where your money goes each month if your goals involve improving your financial situation. Tracking where your money is going daily or even on a weekly basis, will help you make smarter decisions that will help you move toward your financial goals. Reviewing your spending at the end of the month can really aid in keeping you on track and help you set money aside for any potentially unforeseen circumstances as well as monitor your performance.
Prioritize your tasks
Time management is the key to following through with your aims. Doing your most crucial tasks first actually inspires you to finish everything else that has to be done. Personally, I like to break down my tasks as goals and break them down as good, better, or great goals.
My good goals are the goals that I know I must get done.
My better goals are the goals that I would really like to get done and would help me be a little bit more ahead for the following weeks to come.
My great goals are the stretch tasks that I probably won't get to but if I did that would be amazing!
Prioritizing tasks as well as putting them in your calendar will ensure that you complete your tasks in a good time frame even if there happen to be any unforeseen circumstances. Additionally, focusing on one project at a time or a similar group of tasks will help you to work more efficiently. If you want to learn how to become more organized in order to reduce daily stress, check out my other article here.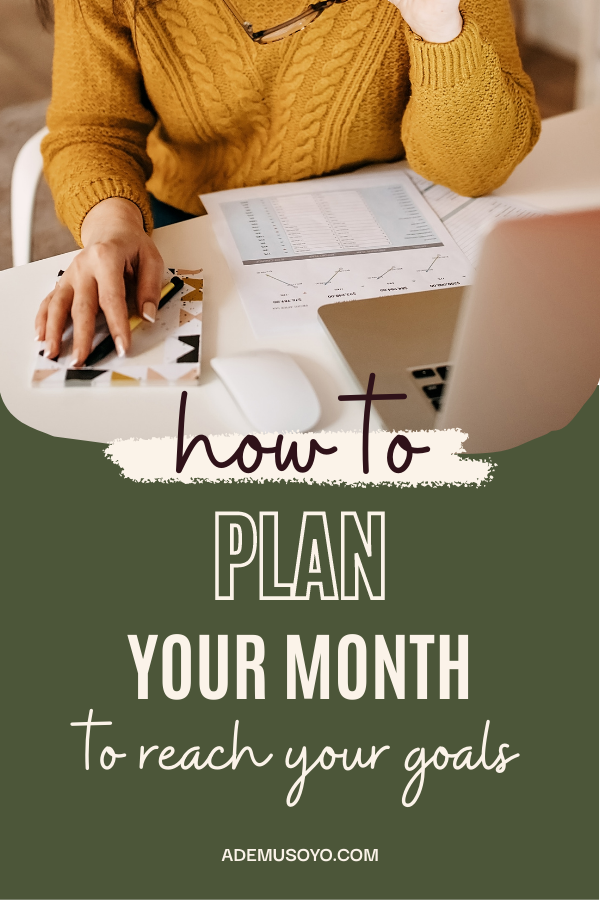 Keep your calendar up to date
Are there any dates that you can't afford to let slip your mind? We all know that feeling when you've realized you've double or even triple-booked yourself. Write them down in your planner so you can work around them and make yourself available where necessary. I personally like to use reclaim.ai. This software allows me to see what is going on across multiple calendars and prevents me from double-booking myself. As you make sure that your calendar is up to date, you know that you'll never miss anything.
Establish monthly plans by finding accountability
Sometimes it helps to be surrounded by people you can trust who can make sure your projects are moving forward. Take the time to check in with them regularly and that you are transparent about where you are really at. In addition to finding an accountability partner, disciplining and holding yourself accountable is just as important to your success. Without that internal drive and commitment, you aren't going to be motivated to push toward achieving your goals. It all starts with you. When you have someone or are holding someone accountable, you will become more self-aware of where you stand in terms of achieving your goals.
Your monthly plans should include carving out time for yourself and others
Allowing oneself to relax and refresh is crucial when you are working toward your goals. Ensuring that you schedule time will improve your focus and productivity. Setting aside even 10 minutes a day for yourself will make a big difference. Free time is also proven to boost creativity and optimize your performance. Making time for loved ones helps you stay engaged and present despite all the other obligations that demand your attention. The important thing is that you make time for yourself and the people that you love and care about.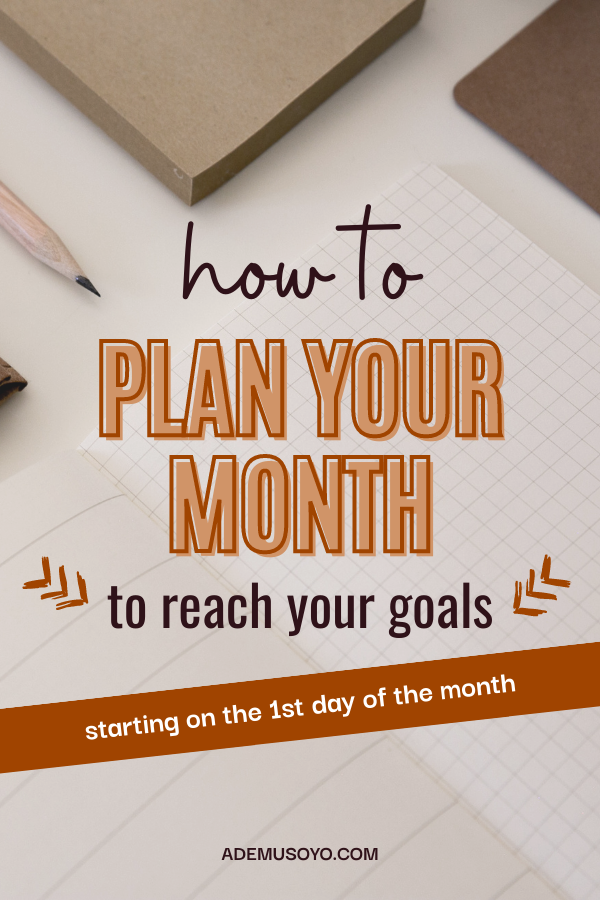 Reward yourself
It's important that you treat yourself after a month of hard work. Having things to look forward to will increase levels of motivation and drives you further. Rewarding yourself helps you to feel a sense of accomplishment and optimize your efficiency as you work toward other tasks. Rewards also help you to build better and more positive habits as you work towards your goals.
The truth is, you can have a busy schedule and multiple commitments while you intentionally work towards your goals. All it takes is prioritizing and time management. Create systems that will allow you to hold yourself accountable and track your progress, these can make all the difference.