I work full-time as a software engineer while also running a digital consulting agency as a side business. Although I love the opportunity to make extra income while still having full-time work, time management can be challenging. This can lead to increased stress, low energy levels, and trouble focusing on both. In this blog post, I'm sharing how to manage a side hustle while working full-time. Keep reading.
Make your side hustle different from your 9-5 job.
I know it may seem counter-intuitive to expand on what you're doing within your traditional 9-5, but trust me when I say it's a lot easier to build out your side hustle if it's DIFFERENT than your full-time job. Spending your free time working on things you do during the day can definitely lead to increased burnout. And in time, will make things a lot less enjoyable.
When I first started my business, I thought I wanted to do web development and web design projects, but I quickly realized that was not where I wanted to spend my free energy. Doing something different than your traditional 9-5 allows you to explore your different skill sets. It also allows you to better context switch when you're ready to dive into your client's work.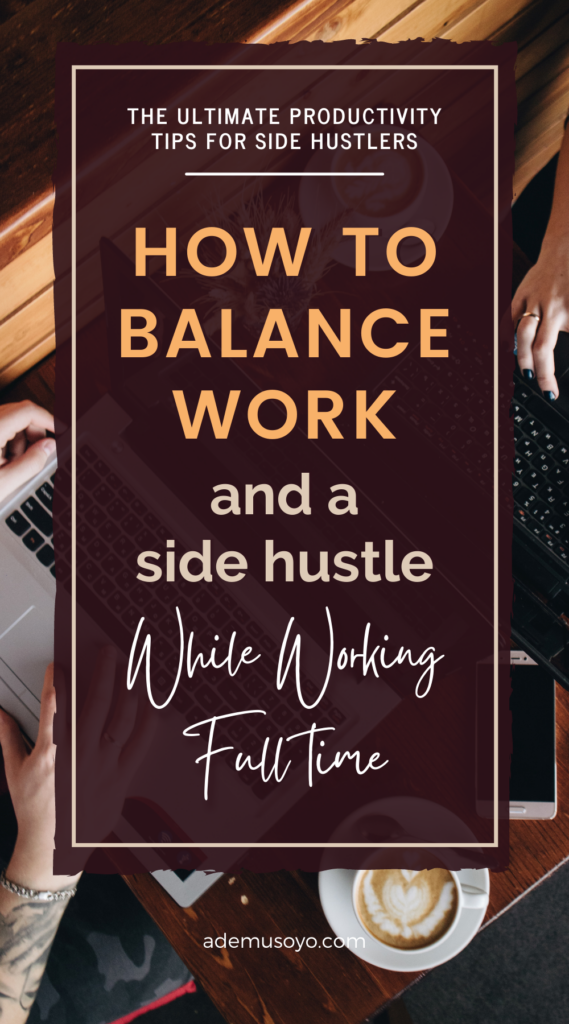 Your time when working a 9-5 and having a side hustle is very limited. Spend your time and effort developing automated systems that will allow you to quickly onboard clients without taking too much time away from your 9-5.
I've used tools like Zapier and Dubsado to automatically allow a client to sign a contract, pay an invoice, and be scheduled for a kickoff call. This means I'm able to review clients during my lunch break, and onboard clients before the end of my day. Allowing your side hustle to be more streamlined will allow you to better manage your time and also reduce stress.
Block Out Time to Work on/in Your Side Hustle
Time blocking is an amazing way to boost productivity. It also allows you to devote time to focus on a specific task at a specific time. If you can set aside 1-2 hours every day to work on your side hustle, whether it's for clients or to grow your business, you'll get a lot more done than if you try to fit it in wherever you can.
I personally dedicate an hour in the morning and then a few hours in the evening instead of throughout the work day because it allows me to be hyper-focused and not skip out on any minor details within the business. Read How To Balance Your Side Hustle Gig With a 9-5.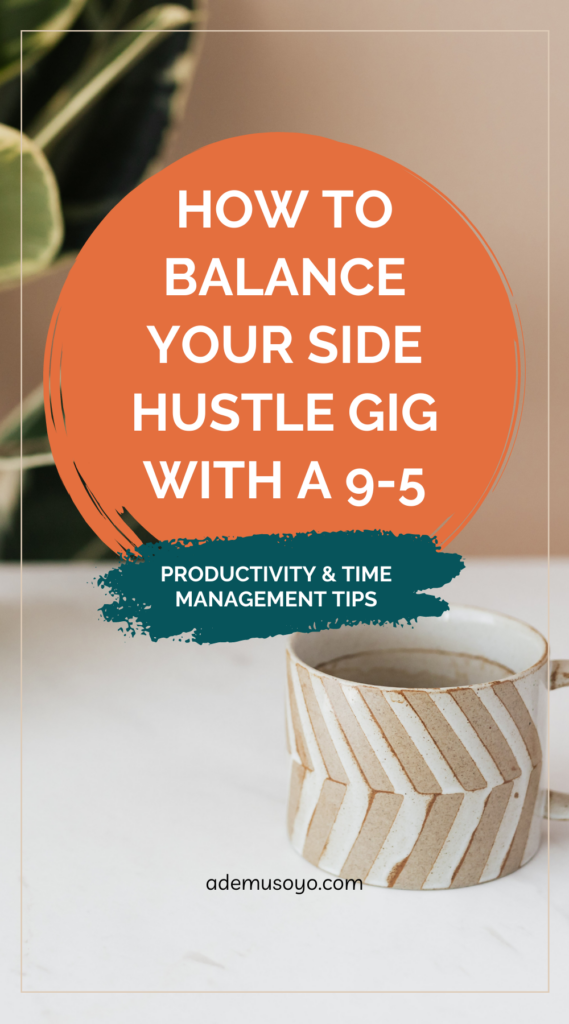 Be picky about your clients
Whether your goal is to be a full-time entrepreneur or not, having a full-time job allows you to build the business that feels the most aligned with you. Because of this, you should be picky when it comes to the clients that you work with. Your goal when building a business is to build a business that is sustainable while also building a business that is scalable.
When you get to a point where you want to start hiring more people to join your team, you want to be clear on what you're offering and you set the direction for your business so that all of your team members understand what the goal is for your business so that they can better help you grow your business.
Be okay with slow growth
Because you are running a side business while working full-time, you may not be able to grow your business as quickly as maybe some of your peers are building their businesses. Be okay with that. This allows you time to be more intentional about your side business and to focus on building a business that matches your passions or desires.
Having a side hustle allows you to increase your revenue streams and is a good way to make some extra cash and more income. If you're ready to start building your business, you can book a consultation call.