Hello Beautiful People! We are now in November. I really can't believe that we only have two months left in 2023. In previous years I probably would have thought to myself, "Wow, where has the time gone?" but this year I feel like I've felt every day, week, and month and I am ready to get out! If you missed last month's update, you'll know that September was the moment when I realized that I had to let go of my own expectations and follow along on my own journey of life. In this blog post, I'm going to talk about all the things that happened in October. Let's dive in.
Hustle Mode
October was really a month of rolling with whatever came my way. The biggest thing that I was focused on was getting a new job, and I had a goal of getting a new job by the end of October. Well, I'm proud to say that I accomplished it but it was quite the journey. For context, interviews for Software Engineering jobs are hours long and require a bunch of different moving parts. That could look like anything from take-home assessments, live coding assignments, and design system challenges in addition to standard behavioral interviews. For the entire month of October up until I got an offer, I probably had 2-3 interviews every single day.
During my last week of interviewing, I had probably 15 hours of interviews! I'm really happy to be where I've ended up, not only because it's a great company, but because it showed that the grind was worth it. I had the time to rest and grieve the loss of my grandmother and was also able to have the energy and the stamina to push through until I got what I wanted. I feel extremely grateful.
One thing that really took a step back while I was so focused on interviewing, was doing all of my self-care-related activities. I wasn't working out as much, wasn't eating the healthiest, and my apartment was a mess. Now, I'm focusing on getting back into a routine and being in a spirit of ease. Because I have a lot more things that are concrete within my life now, I feel like I can start to build healthy routines and systems that will help me stay focused on myself mentally, physically, and emotionally. I am thankful that I had the summer to build some healthy routines and habits and I plan on making sure they don't just become habits but they also become my nonnegotiables as well.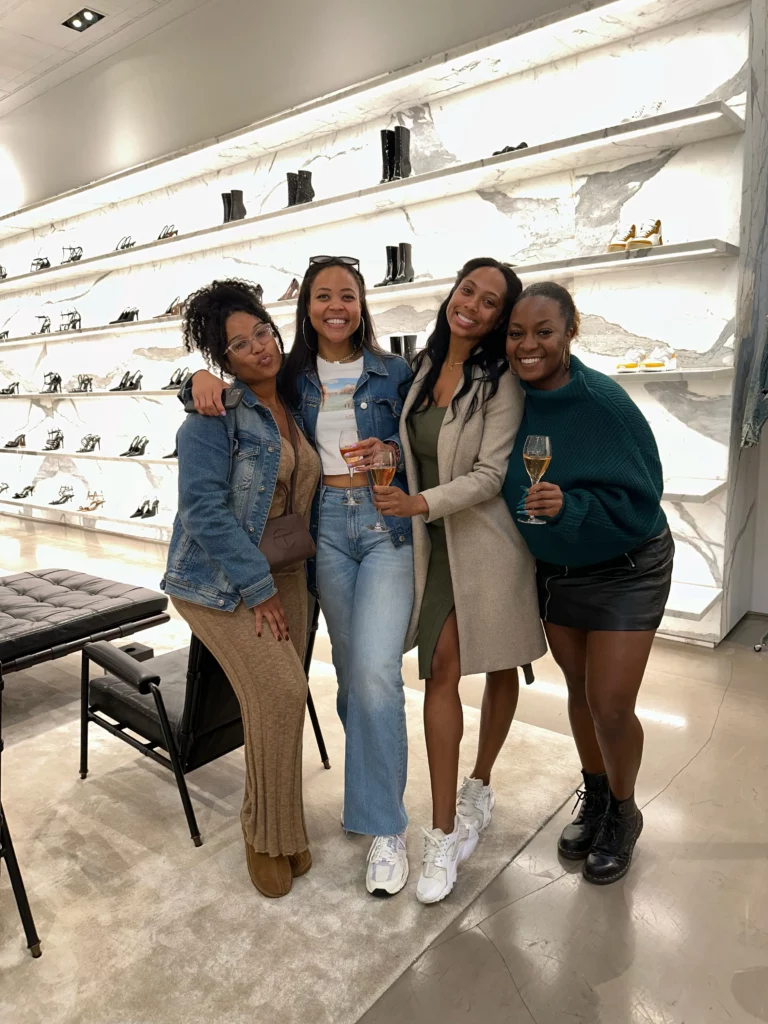 While there was a lot of work, there was also a lot of play as well! Some friends from college came into town to celebrate one of our friend's birthday and we had such a cute, fun girl's weekend! It's crazy to think that we've known each other for over a decade and we're all able to continue to grow and flourish in our individual ways. I've been really fortunate to have some of the best friends who continuously speak life into each other and make sure that we remain intentional. The energy from this weekend really carried me into the month with even more determination and grit. I can't wait for the next time we're together again!
Business Update: Courses, Content, and More!
At the beginning of the month my third course with LinkedIn Learning went out! Getting a course out is always such a fun feeling for me. There's so much that goes behind the scenes with myself and the producers and I always enjoy working with all of them! As it stands, I currently have two courses that are in the works to be released early next year and I hope to keep doing as many as I can for as long as they'll have me so stay tuned for those updates.
As far as my consulting business, I haven't really given it the love and attention that it truly needs. I have been focused a lot on creating content and getting back into the swing of that, and that has definitely been paying off especially on YouTube and on my Email list. I want to spend the next two months really working on monetization of my platforms as well as overall business development. I have so many ideas but I want to really be patient, continue to grow my community, and really present myself as an expert within the productivity space. I'm seeing my business as a space to learn and grow in a different way outside of my 9-5 job and I think 2024 is where things are really going to take things up a notch. If you want to stay up to date with what's going on, join my email list to be the first to know!
Closing
October was hands-down my best month this year. I feel like I ended one season in my life and I am starting a new one in November. I'm hopeful that November will be even better than October and I'm excited to continue to grow and step into the woman that I was always meant to be.