Do you ever feel like you're not as productive as you could be? Or you may struggle with task management and staying aligned with your schedule and goals. This is a common problem I see a lot of my friends, coworkers, and peers struggling with, but thankfully there are plenty of tools out there that can help you get more organized and be more productive.
One of the most popular productivity tools on the market is Notion. Notion is a versatile workspace that can be used for everything from project management to personal journaling. It's a powerful tool for streamlining workflow, tracking goals, and managing schedules. This blog post will be focusing on how Notion can help you be more productive by sharing 5 tips for using Notion to increase your productivity from planning and tracking to integrating other tools and automation. By the end of this post, you'll master Notion's features to boost productivity and efficiency.
Notion for Planning Projects
The number one thing that I love to use Notion for is planning. Here are 5 reasons why Notion is best for planning projects whether for professional or personal use:
1. Centralized Planning with Notion
Having a centralized place to capture and visualize my goals, ideas, projects, and tasks provides clarity and focus. With separate databases for business, career, and personal life, I gain a better understanding of my responsibilities and ongoing projects. Notion also aids in planning content for social media platforms, allowing me to visualize publishing schedules and prioritize tasks effectively.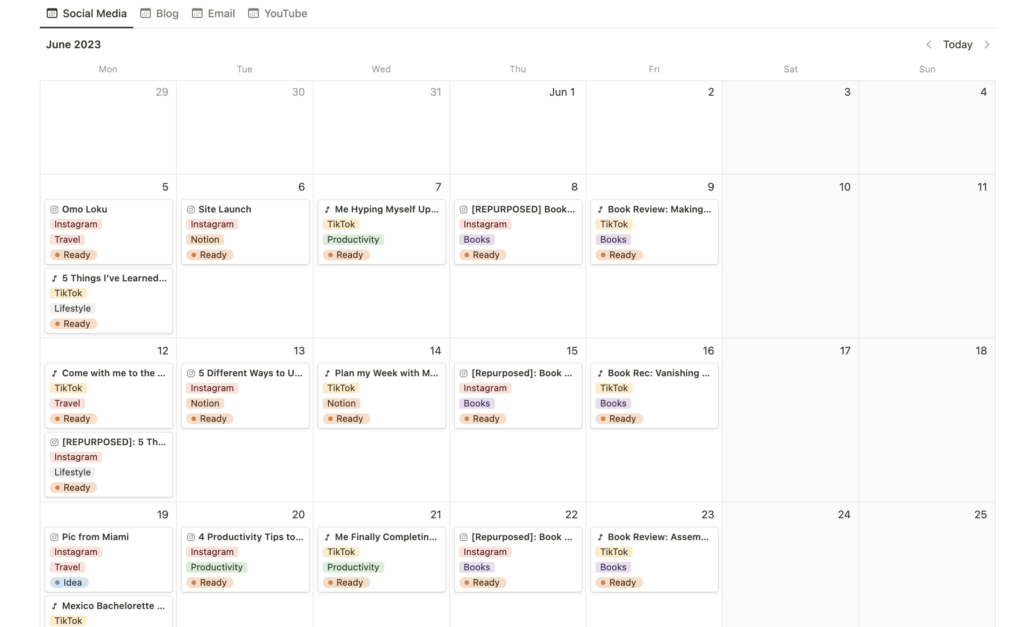 2. Efficient Boundary Setting through Effective Planning
Effective planning enhances boundary setting by providing a clear perspective on your schedule. With a top-down view of your responsibilities, you can confidently decline projects that exceed your capacity. Planning facilitates the establishment of healthier boundaries by offering a comprehensive understanding of expectations.
3. Enhanced Clarity and Focus with Notion
Notion enhances clarity and focus by enabling a clear grasp of responsibilities. This allows for effective prioritization of tasks and projects, enabling you to confidently decline tasks beyond your capacity. With Notion's comprehensive visualization of goals, ideas, projects, and tasks, you gain clarity on what truly demands your attention.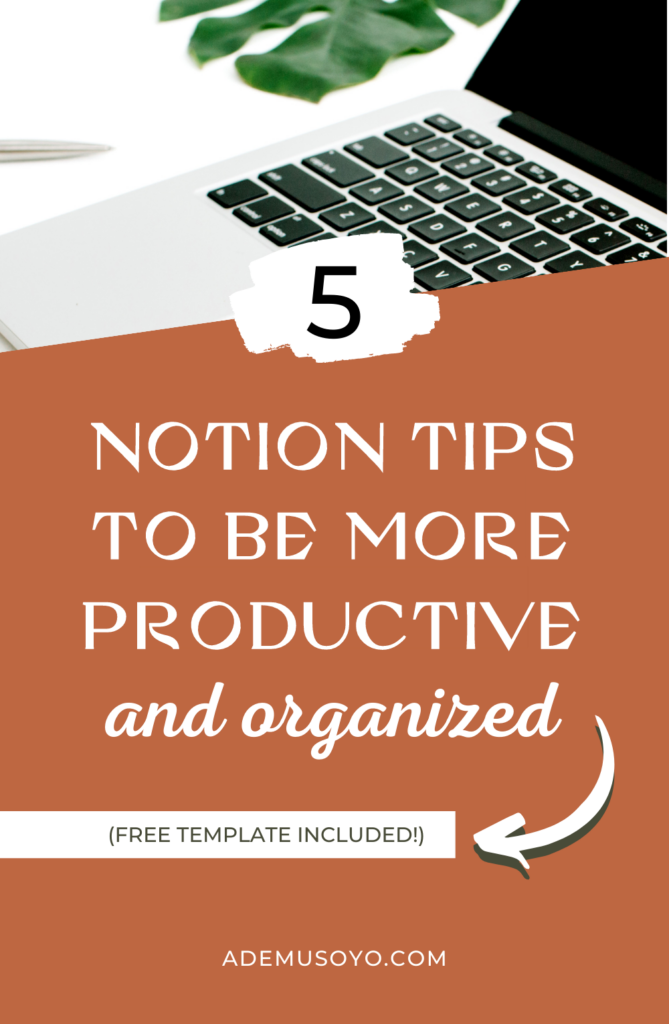 4. Achieving Balance and Productivity with Notion
Notion enables balance and productivity by aiding in boundary setting for both professional and personal life. Through separate databases for work, personal projects, and household tasks, it consolidates to-do lists and schedules, preventing overcommitment and enhancing time and energy management.
5. Realistic Goal Setting and Improved Work-Life Balance
Notion facilitates realistic goal setting and improved work-life balance. With features like reminders and deadlines, it helps you stay on track and avoid procrastination. By leveraging Notion for planning, you can establish achievable goals and enhance your overall work-life balance.
Notion for Tracking Your Goals
Notion is excellent at tracking progress, motivating you to work toward improvement. Its robust database features allow for filtering and customized views like lists, tables, and calendars. For instance, you can create a fitness database to track workouts, meals, and progress photos. Various views, like graphs or calendars, reveal progress over time or workout schedules. Notion empowers you to monitor and visualize your achievements effectively.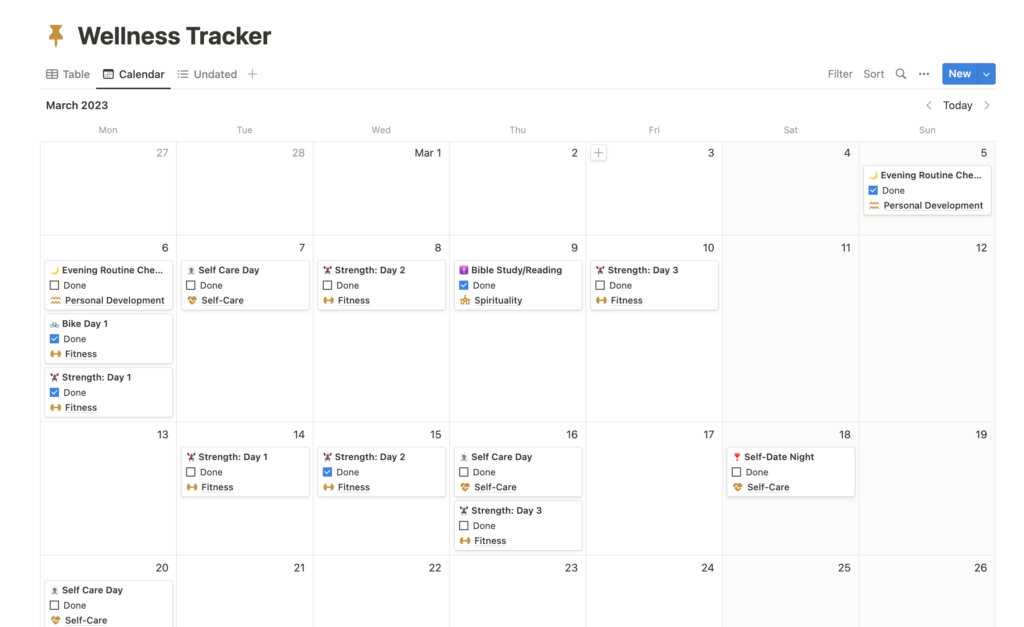 Keeping track of your objectives and tasks is an excellent way to keep organized and motivated. Tracking your progress allows you to see how far you've gone and how near you are to achieving your goals. And, thanks to Notion's customizable views, you can track your success in the method that's most convenient for you, whether it's for your business, career, or personal life.
Notion for Managing Relationships & Setting Reminders
Notion allows you to plan not just for the present but also for the future. Backlog projects allow you to keep early notes and ideas available for when you're ready to work on them. By utilizing the date property, you can set reminders in Notion, receiving notifications when needed. This feature ensures effective time management and timely task execution.

One of Notion's newer and highly favored features is the option to add repeating tasks. This feature enables the creation of templates within your database that can recur daily, monthly, or weekly – automating recurring tasks. Notion also allows task assignments to other individuals, simplifying collaboration and maintaining accountability across your workspace. This feature enhances visibility and promotes seamless collaboration within Notion.
Notion for Setting Up Dashboards
Once you've created multiple databases, combining them into a dashboard enhances productivity. A dashboard provides a centralized page displaying upcoming priorities and urgent tasks, allowing for clear visibility and prompt action. Customizing database views further improves clarity and enables effective decision-making. For a concrete example, I recommend watching my YouTube video where I share my Content Management Dashboard.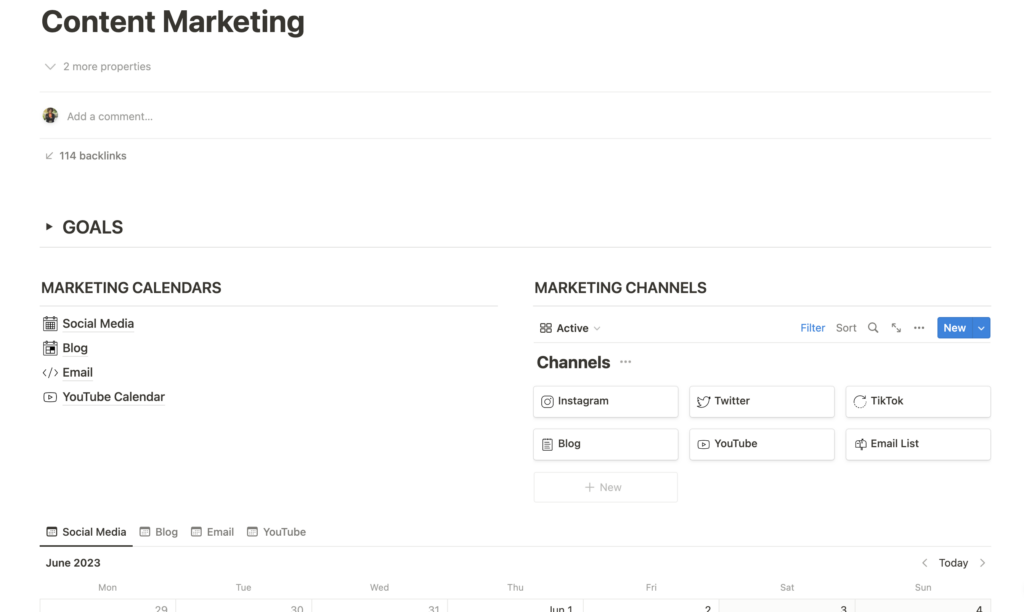 My Content Dashboard in Notion streamlines my content creation process, enabling effective planning and organization. It helps me stay on track with my content goals, leading to a more impactful and consistent content strategy that engages my audience. The Content Dashboard also facilitates progress tracking and allows for necessary adjustments to optimize content. To enhance planning and tracking in Notion, I highly recommend consolidating everything into a dashboard.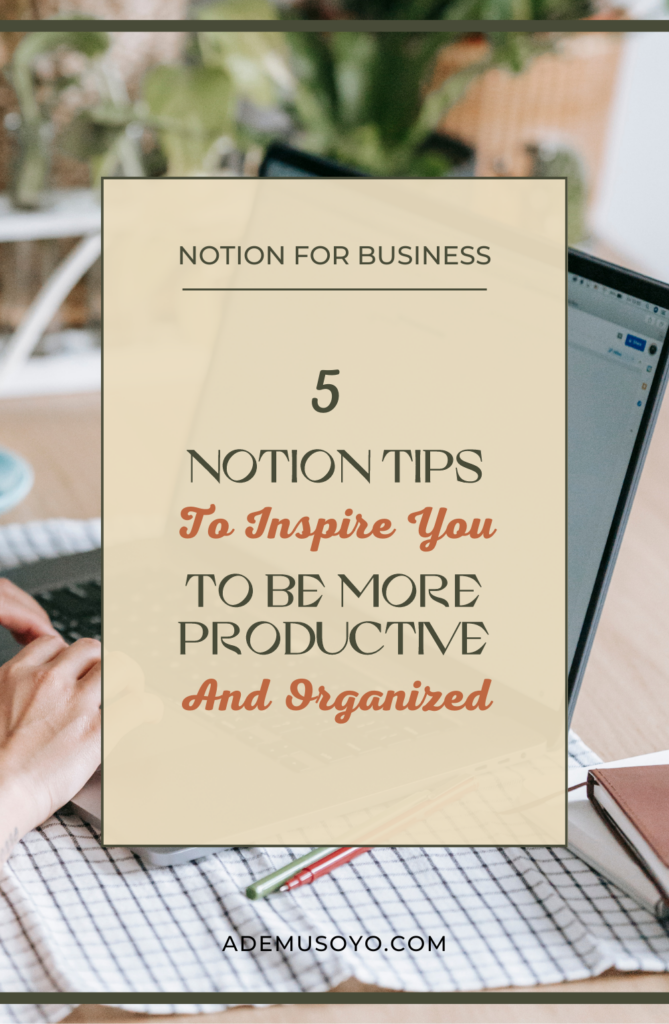 Notion Automation
Notion offers seamless integration with various apps, including GitHub, JIRA, and Asana. Additionally, you can connect Notion with other apps using Zapier, even if they are not directly linked to Notion. In my video, I demonstrate how to connect Notion with AirTable, showcasing the versatility of integration. Consolidating information from different online sources into Notion allows for centralized action-taking and efficient tracking.
If you're ready to start using Notion, grab my Goals and Habits tracker today, or check out my services page for a more personalized notion template, notion dashboard, or workspace!