As a business owner, you know that content is important. Additionally, you also know that creating and managing content can be time-consuming. That's why having a solid Instagram content management system is important. There are several methods for managing Instagram content, ranging from scheduling posts in advance to using hashtags to get found. This blog post will provide you with practical Instagram content management tips, whether you're a beginner or an advanced Instagram content creator.
What is content management?
Content management is the underlying term that describes the process of creating, collecting, editing, publishing, and storing your content in a digital tool. Your content management system should allow you to easily access your content while also helping you outline the different workflows that help you create the content that you need to create.
As an entrepreneur or content creator, the organization is key when it comes to managing your business, and content creation are no different. Here are some key elements that make a content management system work:
Having a space that allows you to create content or store that has already been created that can easily be reviewed and also retrieved.
Organization
Having a calendar to plan out how your content is going to get scheduled and the process involved in making sure that all the elements are there for it to get scheduled.
Project Management
You should be able to outline each of the steps of the content creation process to be able to keep track of what tasks need to be done and assign them to the right people.
Data & Analytics
Keeping track of your KPIs to be able to measure how your content is performing.
All of this can be done on several different tools individually or you can manage and keep track of everything in one tool.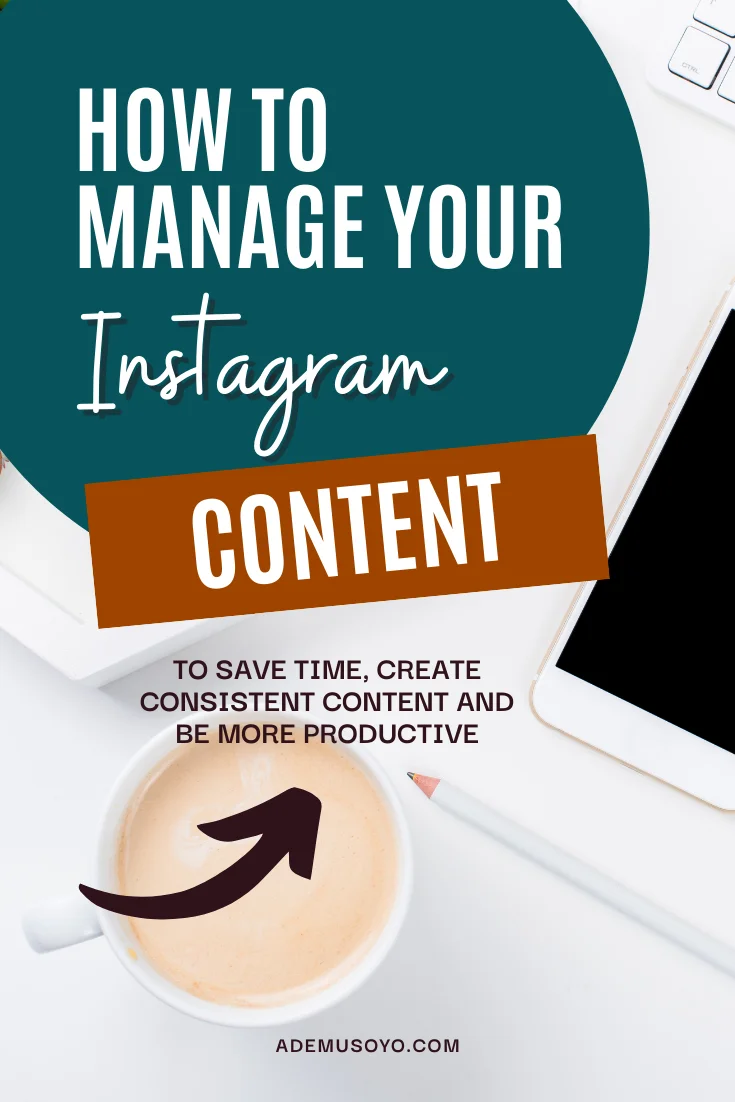 Why is content management important?
One of the main reasons why content management is important is because it can help you save time. If you have a content management system in place, you can easily access your content, schedule it, and track your analytics all in one place. This can be a lifesaver when it comes to managing your content and saving time.
Another reason content management is important is that it can help you be more organized. It's easier to keep track of what needs to be done when you have everything in one place. This can help you avoid missed deadlines and opportunities which will help you be more consistent with creating Instagram Content. I personally use Notion to manage my own content!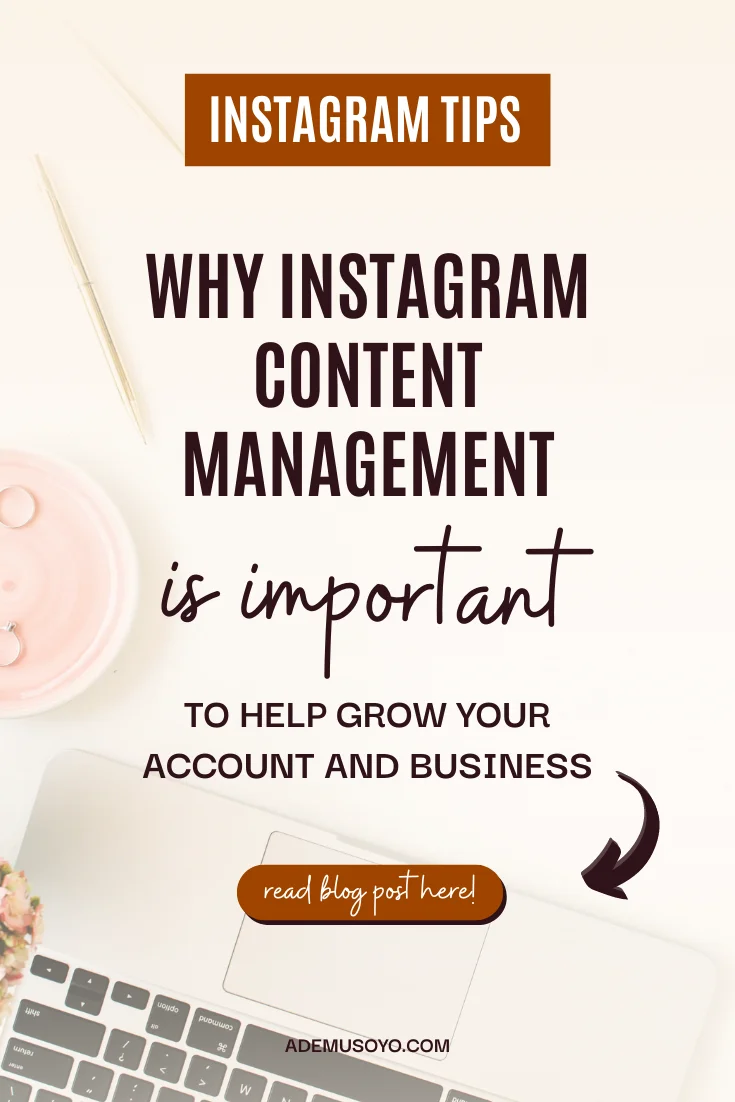 The 4 different types of Instagram content
One of the trickiest parts about creating content on Instagram is the variety of content that you can create on one platform. If you're looking to make your Instagram account more popular, you'll need to post a variety of content to appeal to a wider audience. Here are the different types of Instagram content that you can create.
Photos
You can take photos of anything you like, as it pertains to your brand or your niche. Having photos that are high-quality and well-edited will help you put your best foot forward. A good photo will make your Instagram account look more professional and attract more followers.
Stories
Instagram stories are a great way to engage with your followers and give them a behind-the-scenes look at your life. Stories can be anything from photos and videos to polls and quizzes. Instagram stories are also a great way to do market research with your audience and see how everyone is doing.
Reels
Instagram Reels are short, fun videos that you can create using Instagram's editing tools. Reels can be up to 90 seconds long and can be set with music or have other audio effects that can help you entertain or educate your audience.
Carousels
Carousel posts are multi-slide graphics that can be used to educate and empower your audience. They are an excellent way to say more than can be said in a single feed photo.
As of 2022, Instagram is prioritizing video content in order to gain more followers. However, by posting a mix of photos, carousel posts, stories, and reels, you can appeal to a wider audience and get more followers.
4 Steps Instagram Content Management Tips
It can be overwhelming and difficult to figure out where to start when you first begin creating content to grow your brand. However, here are some simple content management tips that can help you make the most of your Instagram account.
Content Management Tip #1: Plan Your Content in Advance
The first step to effective content management is to plan your content in advance. Decide what kind of content you want to post, and make sure to vary the types of posts to keep your feed interesting. Using a content calendar is another great way to plan and track your Instagram posts. Planning ahead of time will also help you ensure that your content is in line with your company's objectives.
Content Management Tip #2: Use Automation Tools to Manage Content
There are a number of automation tools that can help you manage your Instagram content such as Planoly, Later, Tailwind, Hootsuite, Buffer, and more. These tools can help you schedule posts, track engagement, and even find new followers. Automation can help you save time and grow your account more effectively.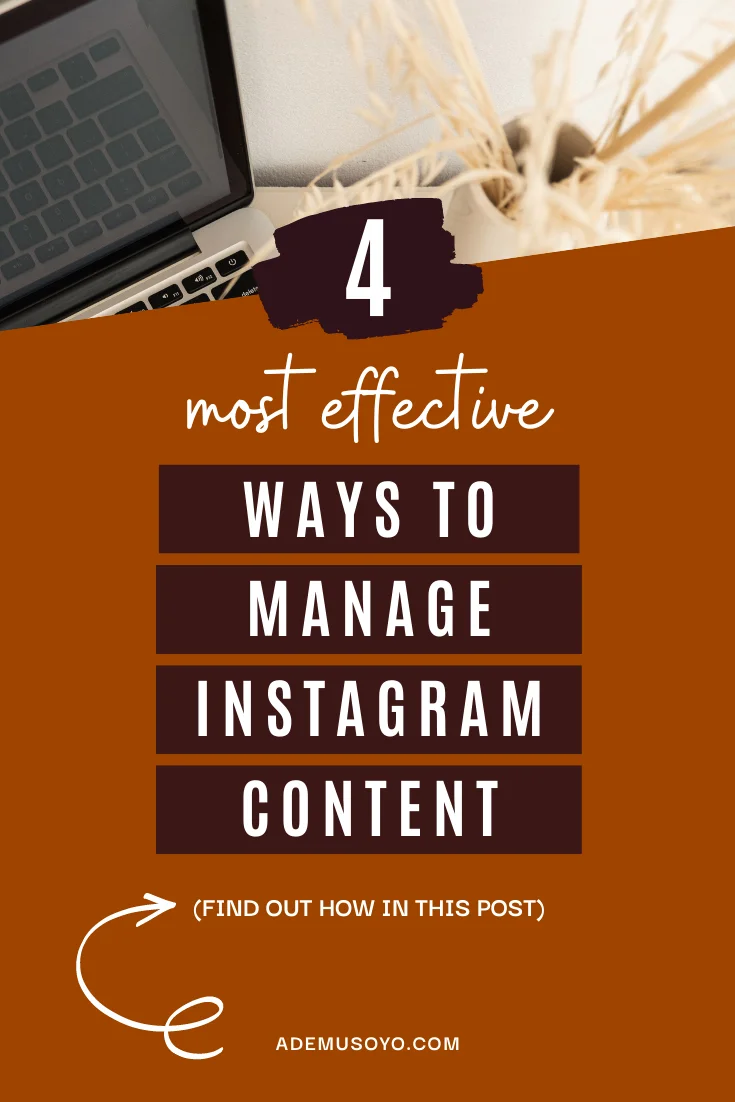 Content Management Tip #3: Engage with your Audience
To build a loyal community on Instagram, you need to engage with your audience. That means liking and commenting on their posts, responding to their comments on your posts, and overall just being active on the platform. By doing this, you'll not only build a strong relationship with your followers, but you'll also encourage them to keep coming back to your page.
Content Management Tip #4: Track your analytics
Lastly, it's not enough to just publish your content and forget about it. It's important to track your analytics so you can see what's working and what's not. Understanding your audience and what they're interested in will allow you to create better content that will help you grow your account.
By following these content management tips, you can make the most of your Instagram account and grow your business. Don't be afraid to experiment and find what works best for you.
Grab my Instagram Content Calendar to help you stay organized and start managing your content in a clear and meaningful way.
‍