The key to being consistent with your content is not only to focus on creating content multiple times a week. It's also about having a system that allows you to organize and manage your content on a consistent basis. I do all of this digitally using one of my favorite apps in the world, Notion! Learn how I use Notion for content management and how you can manage your content below.
What is content management?
Content management is the underlying term that describes creating, collecting, editing, publishing, and storing your content in a digital tool. This system should allow you to easily access your content while also helping you outline the different workflows that help you create the content you need to make.
Organization is key when it comes to managing your business and content creation is no different. Here are some key elements that make a content management system work:
Content creation & storage
Having a space that allows you to create content or store that has already been created that can easily be reviewed and retrieved.
Organization
Having a calendar to plan out how your content is going to get scheduled and the process involved in making sure that all the elements are there for it to get scheduled.
Project Management
You should be able to outline each of the steps of the content creation process to be able to keep track of what tasks need to be done and assign them to the right people.
Data & Analytics
Keeping track of your KPIs to be able to measure how your content is performing. All of this can be done on several different tools individually or you can manage and keep track of everything in one tool. I have found Notion to be the tool that helps me achieve all of these things.
What is Notion, and how has it been used?
Notion is an all-in-one productivity tool, but it can do much more. It can help you manage documents and projects, write blog posts and magazines, and keep track of your habits, books, and restaurants!
Notion has many usages; I use it to help me manage my personal life, career, business, and so much more. The best thing about Notion is that there are no rules to how you can use it. And when you figure out how you want to use Notion for content management or anything else, the possibilities are endless.
How Notion Works
Notion starts you off with a blank slate. While this may be intimidating for some, use it as an opportunity to develop a system and a process that works for you and allows you to complete your work as efficiently as possible.
Notion can be broken down into blocks, which are various elements that can be displayed on a page. Pages as individual ideas or streams of work that you can collect within Notion. Pages can be grouped in databases, which allows for more grouping. You can even add templating so that you are not necessarily writing the same thing all the time.
Databases contain different views, such as tables, lists, calendars, boards, and timelines. And the ability to sort and filter to add more customization and better visuals of what you're looking for.
Additionally, Notion's API can allow for more automation, enabling users to bring more things into the app. This genuinely makes Notion a one-stop shop for everything. Notion allows you as a user to create what you need to create in a system that makes the most sense for you.
How to get the best out of Notion
The way to get the best out of Notion is to start small and work your way up. A lot of people will preach about using templates. However, I think the best way to learn how to use Notion is to start using Notion yourself and then build on your own as you get more comfortable using it.
I always say to start with one idea. Start with one idea where you just write things down on one page. Then when you have one idea, create a page for another idea and begin writing things down specific to that idea. Does your first and second idea relate to each other in any way?
Create a database that allows you to properly group and keep track of those ideas. Have a completely different idea that doesn't relate to the first or second idea? Create a new page for it and start the process again.
When you get more advanced with Notion, I definitely recommend you organize your content using the PARA method. The PARA method allows you to manage your content more visually, allowing you to see not just your content management but also the other aspects of your business in an interconnected way.
Everything in your business is interconnected. Integrating your content management workflow with the rest of your business will help ensure that your company and the content you're creating are on the same page.
How do I use Notion for content management?
Here's how I use Notion for content management: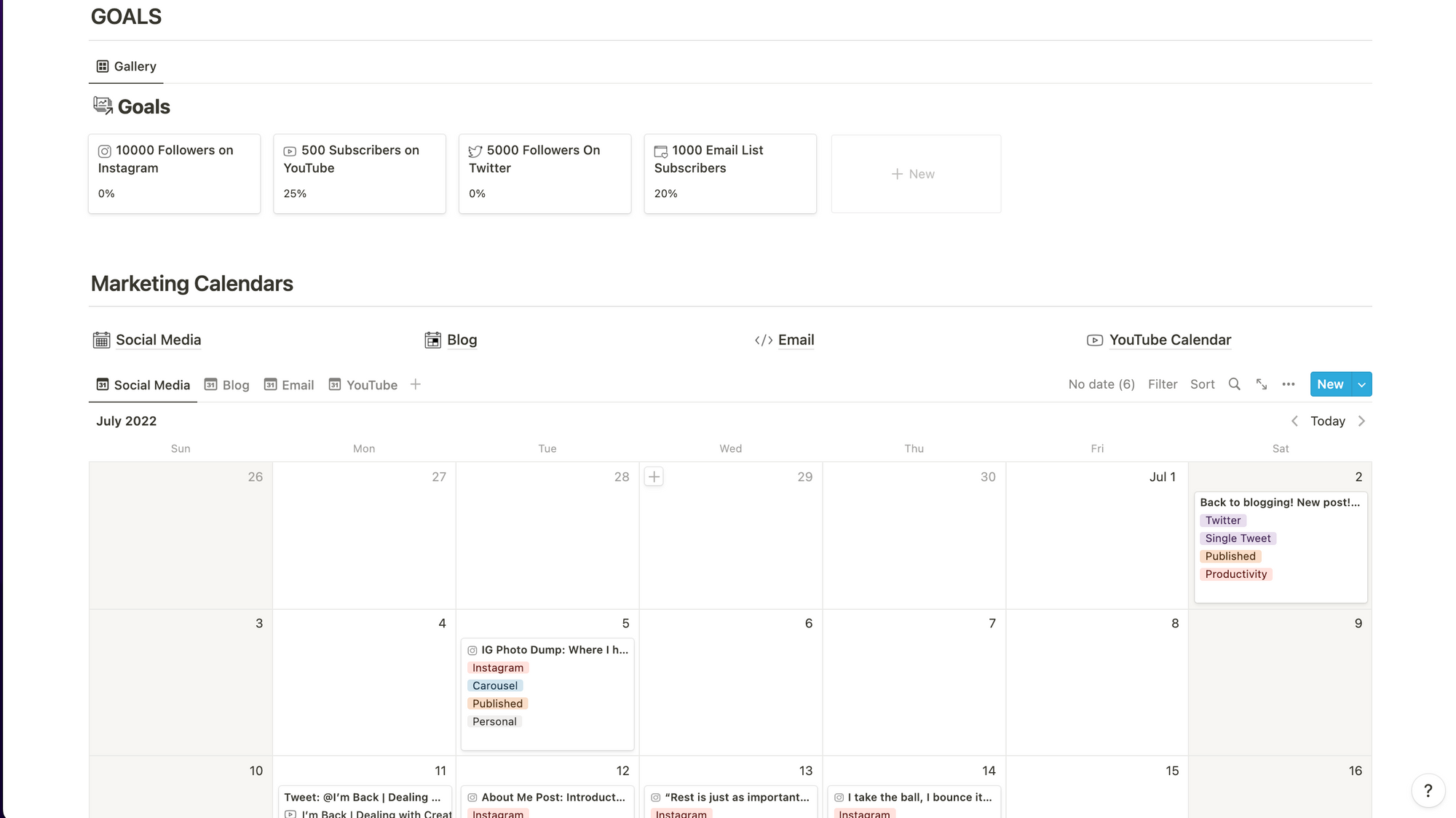 Goals
At the beginning of my dashboard, I have the quantifiable goals I am trying to hit within this area. This helps me recenter and refocus anytime I come to this page.

Marketing Calendars
I use 4 Calendars to manage my content. Social Media (For Instagram, Twitter, and TikTok), Blog, Email & YouTube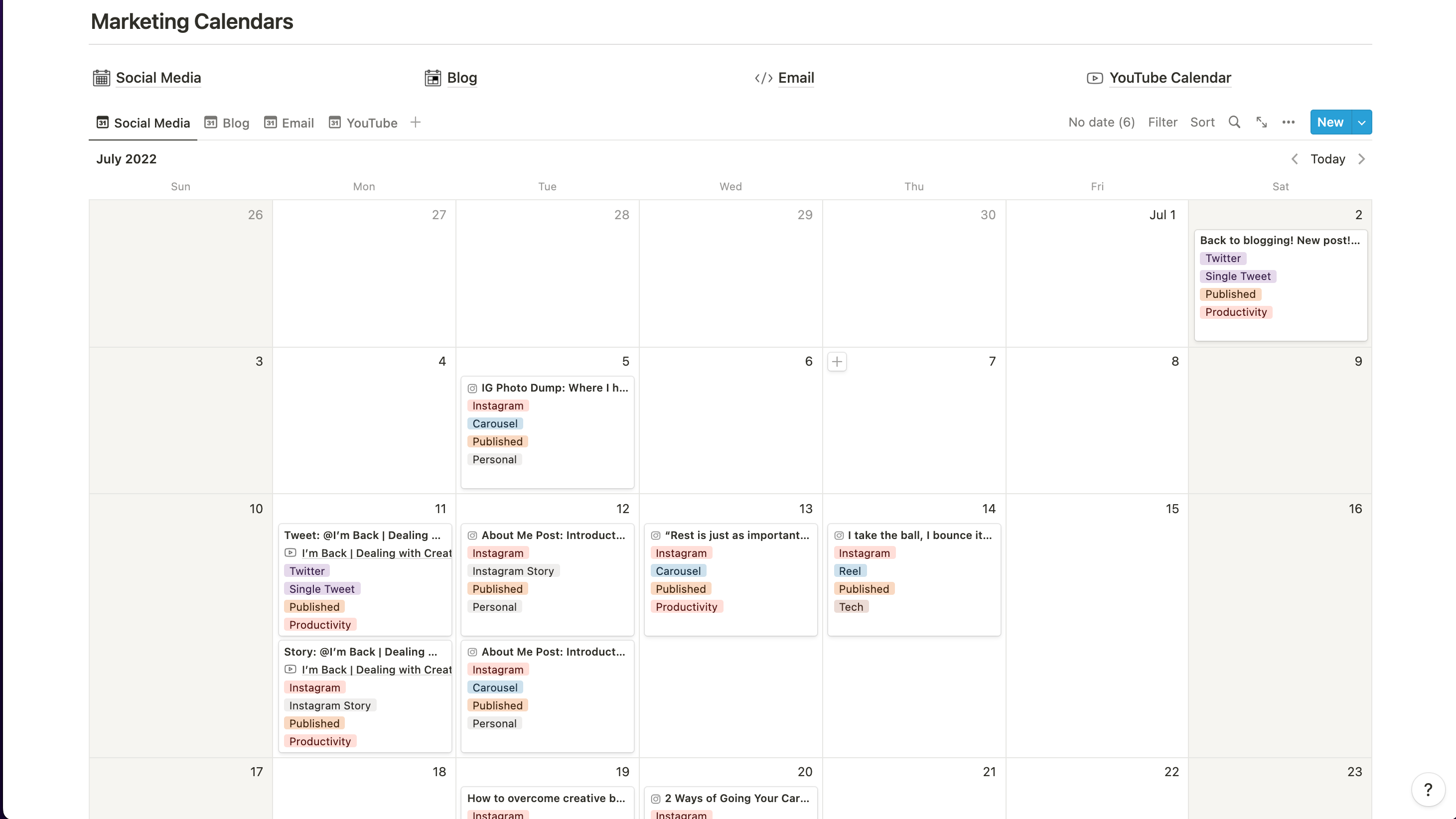 ‍
‍Channels
I also have all the channels I am actively creating and distributing content within each of the specific hubs.

Projects
Lastly, I keep track of all of the projects that I am working on that relate to my content.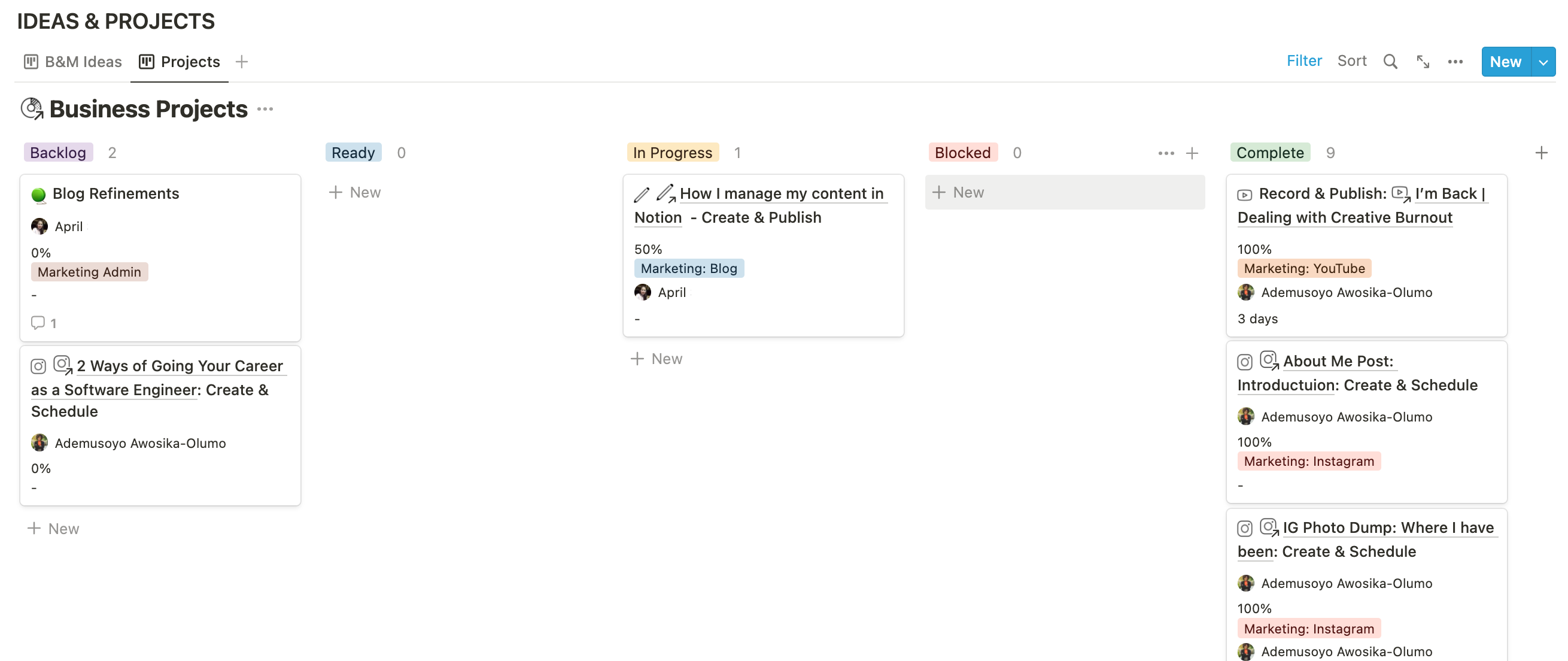 Having this space in Notion to plan out and create content helps me stay focused and continue to grow and evolve my brand and business over time. If you would like to get your own Content Dashboard within Notion, click here to join the waitlist.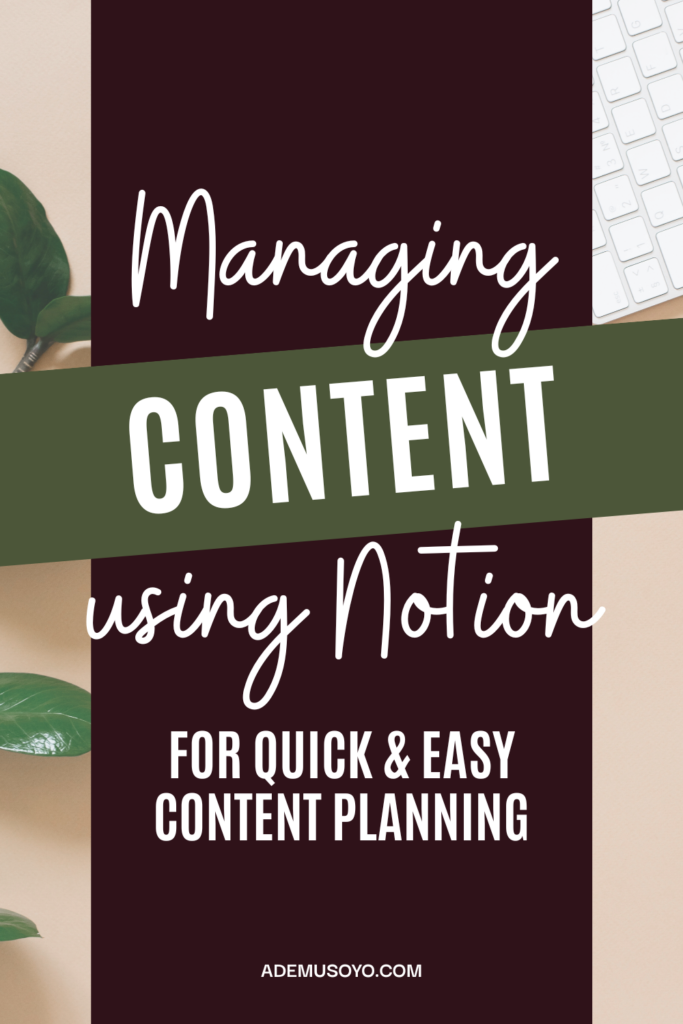 Want to see a Video Walkthrough?
Check out my newest YouTube Video where I go through how I manage my content in Notion