The key to creating consistent content is to have a plan in place that helps you stay focused on what content to create that aligns with your brand values and your business goals. Behind every content plan is a powerful content strategy that describes what your content will be, why you're creating this content, and how your content will work out. If you're wondering what makes up a powerful content strategy, keep on reading this blog post.
The Content Strategy
A content strategy focuses on the planning, creation, distribution, and understanding of your content in relation to your business or your brand goals and values. It provides a framework to generate new ideas and map those ideas to a specific platform before you begin creating a single piece of content.
When you have a content strategy in place, you won't overwhelm yourself with what to post because you already have a framework that narrows your focus so that every piece of content that you have works together.
What is a Strategic Content
There is a significant difference between regular and strategic content creation. Regular content creation is primarily focused on creating content and getting it published. Strategic content is content that fits into a larger picture. Strategic content ensures that it maps to your content pillars and that it can be tied back to a specific business goal, whether it's brand awareness, engagement, or sales. Every piece of strategic content has a purpose that ties back to a larger mission for your brand or business.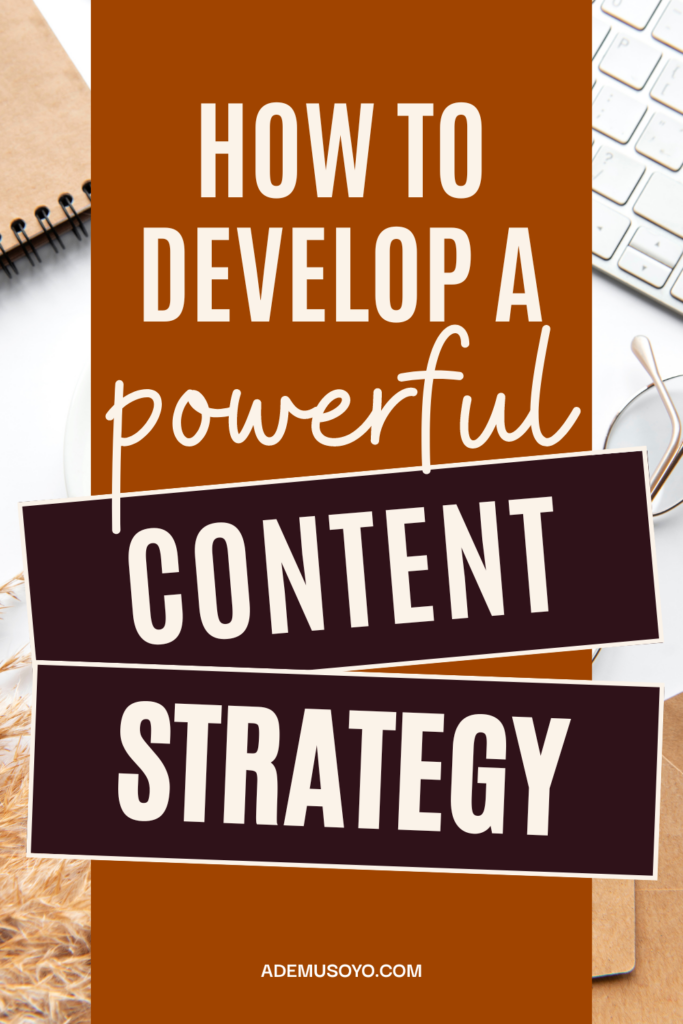 It is important to note that not all strategic content must be solely serious, nor must every piece of content be directly related to your business. Hence, it's perfectly fine to have content pieces just for you to enjoy, whether it's because you enjoy creating that content or you have something fun to share.
Having those fun and personal content pieces will help you connect deeper with your audience and can even help you have more fun with your content as you continue to create more of it.
The building blocks of effective content
Meanwhile, before you begin creating content, you must first understand what goes into each piece of content that you create before it is published for your audience to consume. Here's how I break everything down:
1. Define your goal
‍To define your goal, first, ask these questions:
What do you hope to achieve once this content piece is published?
Are you looking to gain more followers or increase your brand awareness?
Are you hoping to get more engagement with your post?
Do you want this post to lead to more sales?
Identifying the goal of your content should be the starting point of your content piece.
2. Map your content ideas to your content pillars
‍Every piece of content should correlate to your content pillars or the overarching key topics of your brand or business. This will help you stay focused when brainstorming new ideas or recycling old ones.
3. Determine the content mood
‍Within each content pillar you're going to have different moods that your content can fall under that will evoke a particular feeling in your audience. Your content should leave people feeling like they are either being:
educated
sold something
inspired
apart of the community
engaged.
Each content piece can fall in any combination of those above, but it's important that you leave your audience feeling something.
4. Have a call to action
‍Within each piece of content, you want to guide your audience to the next step. You can have direct calls to action such as "buy this product" or "grab this freebie". You can also have more transitional calls to action such as "retweet", "save this post for later" or "comment down below". Your content is a stepping stone to your business offerings and having a mix of calls to action to get them there is important.
Now, you're ready to start creating content and this part should be a breeze!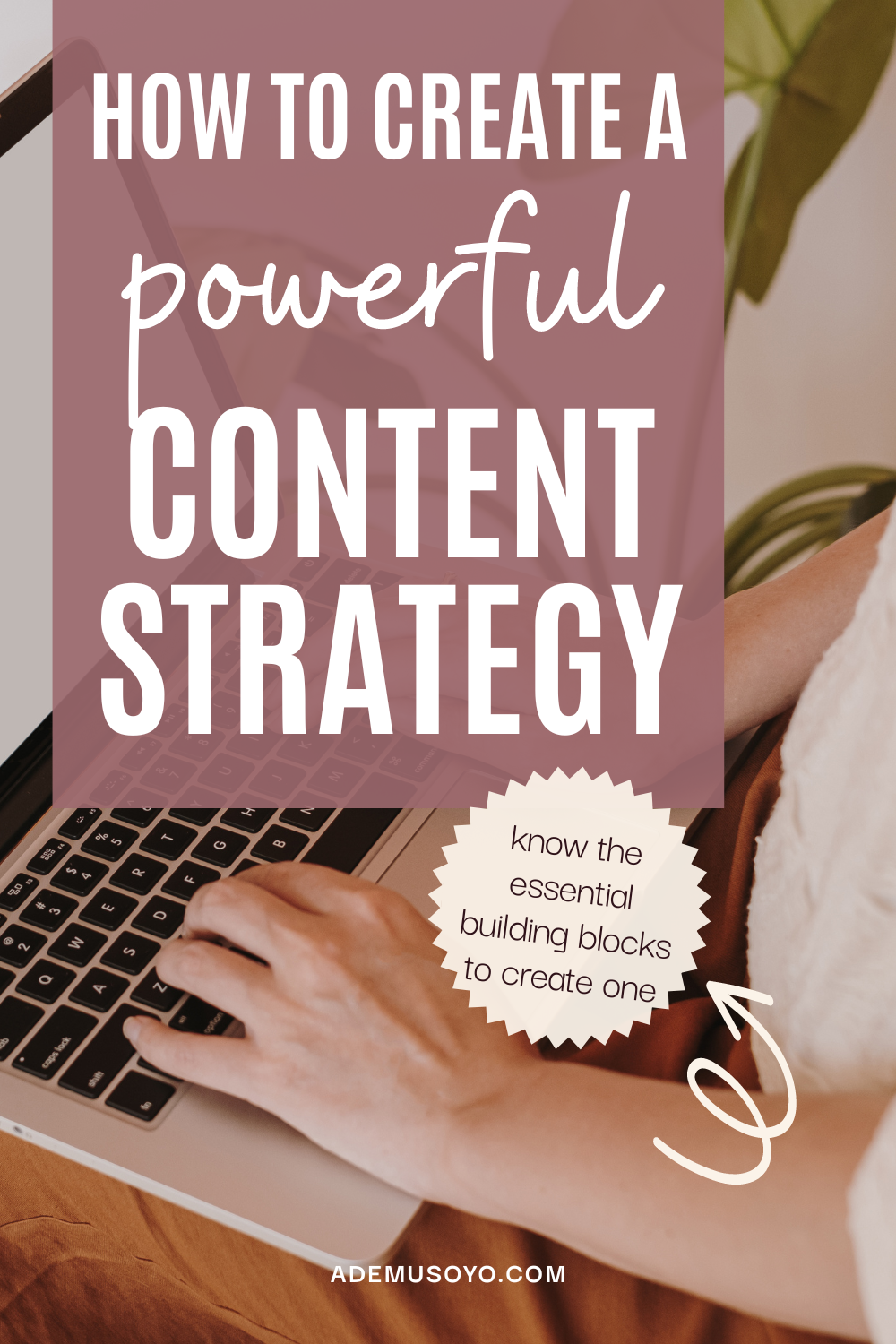 4-Step Content Strategy Framework
To get started creating content and developing your strategy, I want to take you through the 4 step content strategy framework that I use for myself and for my clients. This guide will help you develop your own framework for building the most effective strategy possible.
1. Establish your core brand identity
‍Before you can start serving others with your content it's important that you understand who you are and what impact you hope to have on your brand. When you are able to establish your own brand identity, you're able to understand what type of content you need to create for your clients.
2. Understand your ideal audience
‍The next is to begin working toward identifying your ideal audience. When you identify and understand your ideal audience, you will get clear on who will resonate with your content and how they will resonate with each piece of content that you create. Start trying to identify your primary and secondary audiences, what pain points they have, and how your content can be a guide to help them with that solution.
3. Map your content to your content pillars
‍Now that you understand your ideal audience the next step is to outline the content pillars that would best serve them and start brainstorming content ideas. You can start your list of ideas first and then map them to your content pillars or vice versa it doesn't matter! The important thing is you start to link these things together.
4. Pick a platform
‍There are so many different platforms on the internet that everyone can be successful with creating content on. The important thing is that you stick to one and you continue to learn how to use that platform to the best of your abilities. Think of each platform as a tool to help further your brand mission and showcase your expertise. I recommend you pick a platform that you spend the most time on so that it becomes more natural to you.
How to create and develop an effective content strategy
Now that you have a good understanding of what goes into a content strategy using my framework, here's a step-by-step guide that will help you outline your own strategy.
1. Define your goal
‍Understand what the purpose is for the content that you create and what you're hoping to achieve through your content creation. Understand what your objectives are and what key performance indicators you will be looking at to keep track of your progress.
2. Identify and understand your ideal target audience
‍When you understand your ideal audience you're able to clearly identify how you can best serve your audience through your content and how you can directly speak to them.
3. Create your content pillars
‍Outline 3-5 topics that will best serve your audience and help them reach their goals or can educate them on how to best solve their problems. Rotate between each of them throughout a given week. Learn how to create content pillars for social media here.
4. Brainstorm new and interesting ideas for content
Come up with ideas that can map to your content pillars.‍
5. Pick a platform to start creating‍
Play to your strengths. Pick a platform that will allow you to get started quickly and can allow you to produce your best work.
6. Develop a publishing plan for producing high-quality content regularly
‍Now that you've created it, it's important you share it with others so that you can showcase your expertise. You might consider repurposing your content too.
7. Assess & track your progress regularly to make sure you are meeting your goals
‍See how your content is performing over time. This will help you identify what content you should repurpose but can also help you track your growth over time.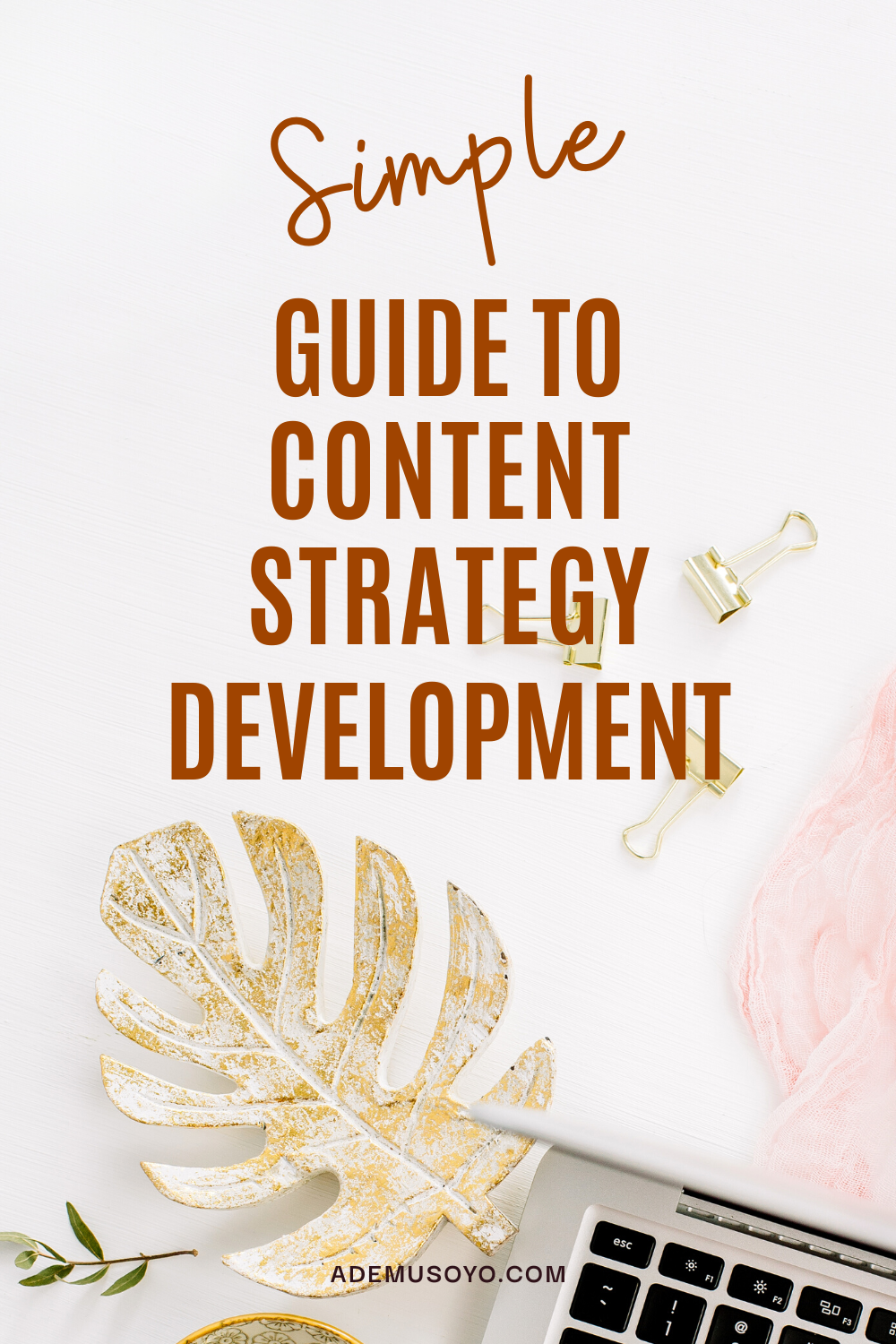 Content Marketing vs Content Strategy
Content strategy and content marketing go hand in hand when it comes to your brand. You use your strategy to identify what goal you want your content to serve and you use content marketing to actually drive that goal forward through organic forms of content. Examples of content marketing are:
Blog Posts
Ebooks
Infographics
Email
Video
Social Media
Oftentimes, content marketing can be confused with content strategy however they are actually different.
Developing a solid content strategy isn't a one-size-fits-all and will continuously develop and improve as your brand evolves and develops over time. If you would like some assistance getting your content strategy defined, apply to work with me.