In today's world, Content is King when it comes to building a brand and making money online. Investing in content marketing allows you to increase your brand awareness, build authority, and increase sales for your business. Because of this, there is a huge demand for people who can create and manage content. This is where the role of a content strategist comes into play. A content strategist plans and oversees the creation of content for a business. This blog post will cover the role of a content strategist as well as the significance of having one within your business.
Content strategist definition
A content strategist, by definition, is a professional who works with businesses to research, plan, and execute content creation that aligns with the goals and values of the business. Their main goal is to provide valuable, strategic material that informs readers and turns them into paying customers.
The role of a content strategist
The role of a content strategist starts with building a powerful content strategy that directs your followers to the next step in your buyer's journey but also showcases your expertise and helps you build authority. If you have a big content team, the role of a content strategist may just be to research content ideas and oversee other people creating the content. However, generally speaking, their job looks like this:
Identifying your ideal audience and their pain points.
Researching the latest industry as well as social media trends
Creating a plan for the next week, month, or quarter of content
Creating the graphics and copy
Distributing the content across multiple platforms
Tracking the content's performance
A content strategist can wear many hats, but the focus should always be making sure that your content marketing aligns with the goals and values of your business.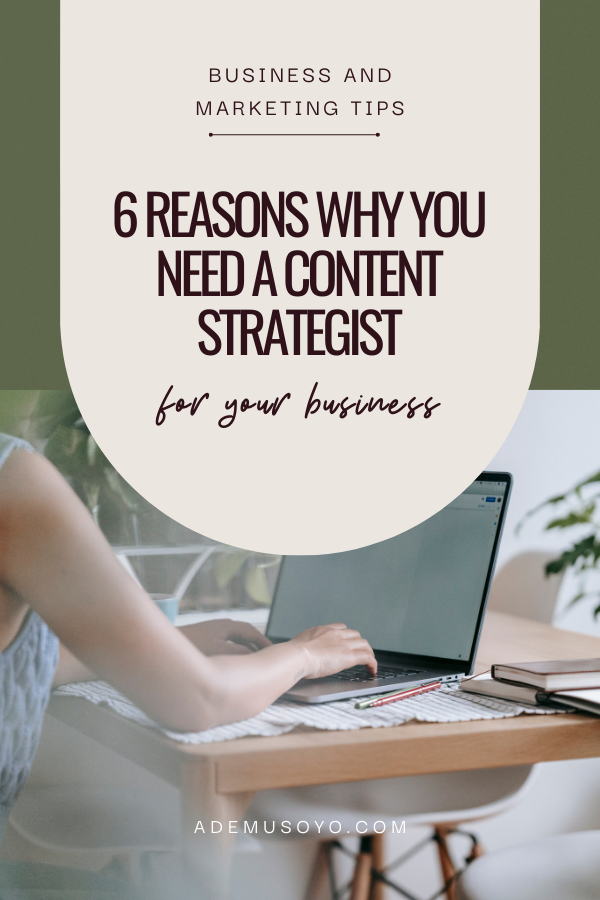 How to be a content strategist
Becoming a content strategist starts with an interest in the content. Not just as a consumer, but from the lens of a creator. It's important that when you look at different pieces of content, you're not only looking at the content to say "wow I really enjoyed that" but you're also asking yourself "why did this content really perform well."
My best advice is to start off with creating content for yourself consistently. As you create content consistently, you'll start to form your own plans around your content and can also develop the skill set to track your content as well.
I also recommend that you start with one platform when it comes to starting off as a content strategist. That could be email, blogging, Pinterest, or Instagram. The reason why is that each platform has very different ideas of what performs well on each of those platforms and has a different range of skill sets. Once you've perfected or understood one platform, move to another one, and then another one.
Once you've mastered creating content for yourself, look to create content for other people. Allow yourself to understand the needs of people who are different from you to expand and strengthen your content strategy skills and increase your learning opportunity. Creating a powerful content strategy is a skill that takes time to develop but once you have it, it can only get better.
What skills are necessary to become a content strategist?
There are many skills that can help you become one most of which you may already have! A content strategist needs to have a good understanding of how to create content as well as also like to create content as well.
Creating content is not just about the graphics; it's about the words as well so being a good writer is also very important. Content strategists must also be able to read data and quickly grasp what is working and what is not in order to know what improvements to the content strategy are required.
What makes a good content strategist
Building a content strategy for people isn't one-size-fits-all. It's important to create a strategy for a client that aligns with their goals and also matches what they can handle. Even if you were to outsource your content creation process to someone else, there are still elements that you need to contribute to the overall content creation process.
This means that trying to create one-size-fits-all content strategies isn't going to work because what might be attainable for one person, may not be attainable to someone else. Being able to customize your strategy to tailor to the needs of the business is a key skill that can separate you from the rest.
Understanding the sector or niche for which you are developing content is another quality that makes an effective content strategist. If you want to develop content in the wellness industry, for instance, hiring a content strategist who is knowledgeable about the industry can ensure that you are getting a content strategy from someone who is knowledgeable in your area.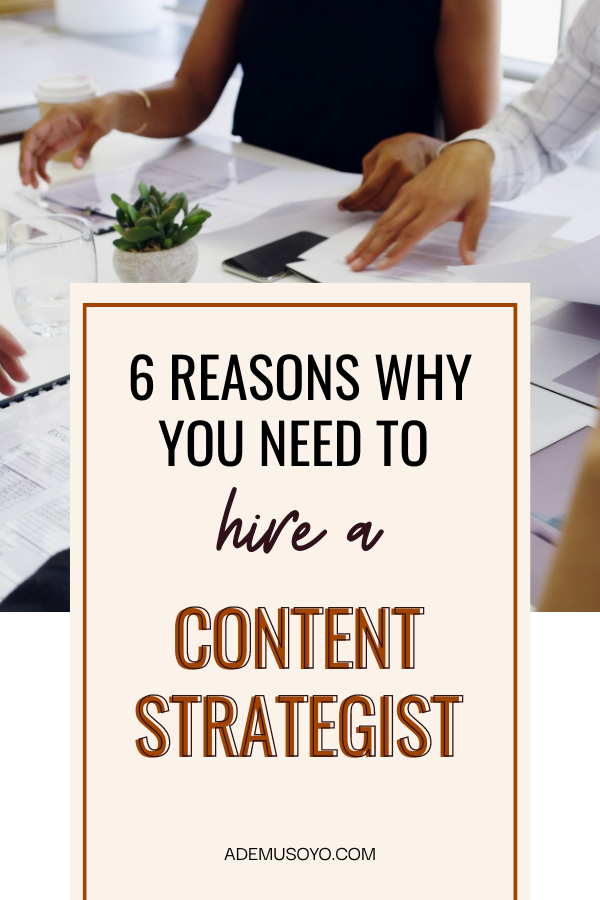 The difference between a content strategist versus the other content-based roles
There are other roles within the content marketing space that support or work alongside a content strategist. The following positions can support the creation and distribution of content:
Content Creator
Content creators ensure that the content planned by a content strategist gets created. The purpose of a content creator is to create content that informs, educates, and entertains the audience.
Copywriter
A copywriter's main goal is to produce copy (words) that persuade your audience to take action. The goal of a copywriter is to create words that encourage the reader to take action and buy a product or service. They oftentimes work with the content creator to create captions or website copy that can move people to take action.
Content Managers
The only difference between content managers and content strategists is that the former is only focused on overseeing the creation of content. This role is similar to a product manager with only a focus on content creation.
Content Marketer
A content marketer is similar to a content creator with a focus on organic content marketing strategies like blogging or social media. On the other hand, a content strategist's main focus is on the overall planning and strategy, while a content marketer focuses on the execution.
Having a good content strategist can allow you to take your brand to the next level. If you're interested in working with me to help you with your content strategy, apply to work with me.
‍