When it comes to running a business successfully and sustainably, a key component is being organized. Having the right tools and processes in place to manage the day-to-day operations such as your finances, clients, and marketing. This ensures that you are on top of everything thereby allowing you to identify places to grow and innovate. One of my favorite tools to be organized when it comes to my business is Notion. In this blog post, we're going to talk about how to make an Online Business Hub in Notion.
What is a notion business hub?
A "Business Hub" is an essential tool for entrepreneurs. It provides a centralized place where you can quickly access all the information and tools related to your business. The key to having a successful business hub is to ensure that everything is easily accessible in just 1-2 clicks. With a business hub in Notion, you have the advantage of having one page where you can get a full view of different aspects of your business. These include your operations, marketing, and clients. Having a consolidated view helps you keep track of everything and make informed decisions.
A business hub can help you stay organized as it allows you to store all important documents, contacts, and to-do lists in one place. With a business hub in Notion, you can easily manage your workflow, collaborate with your team, and take action faster. Having a business hub is a necessary tool that can help you streamline your business operations and achieve your goals more efficiently.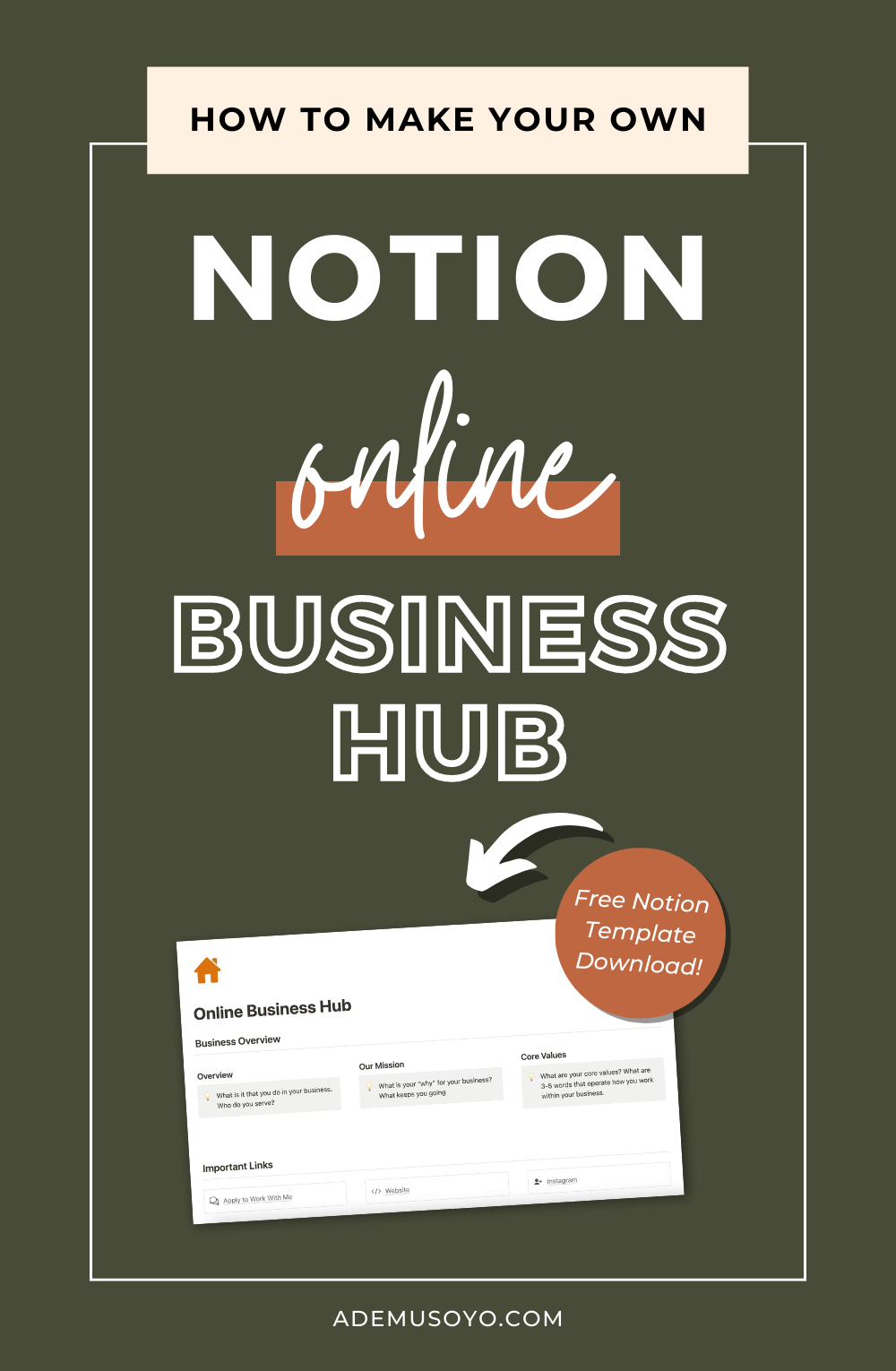 Can you run, manage, and organize a business in Notion?
One of the reasons why I love Notion is that you can customize it to be whatever you want to be. Notion gives you a blank slate which allows for customization. You can customize it to your liking like how your brain and your team operate. It also has different features that allow you to manage various aspects of your business, such as your marketing content and your projects. It also allows you to keep track of things within your business like the status of your projects. Or how you're measuring against your key performance indicators (KPIs). While some aspects of your business might take place outside of Notion. It can work as a central place for what you need to do to operate your business.
How to use notion for business
Whether you are a new or old business owner, you tend to wear a lot of hats. To effectively manage each of those hats, you need to have a good understanding of how each area of your business works. To get started, I recommend that you have a good project management system. A good project management system is important so that you can keep track of all of the tasks, set deadlines, and visualize how much you have going on at any given point. This will help you grow and learn what it is that you need to do and just have a better insight into how things are running within your business.
Outside of managing your projects, keeping track of your marketing content is also really important. In order to start getting new clients and building out your brand awareness, you have to stay consistent with your content. The easiest way to stay consistent is to organize your content ideas and keep track of the process from ideation to publication as well as the overall performance of your content.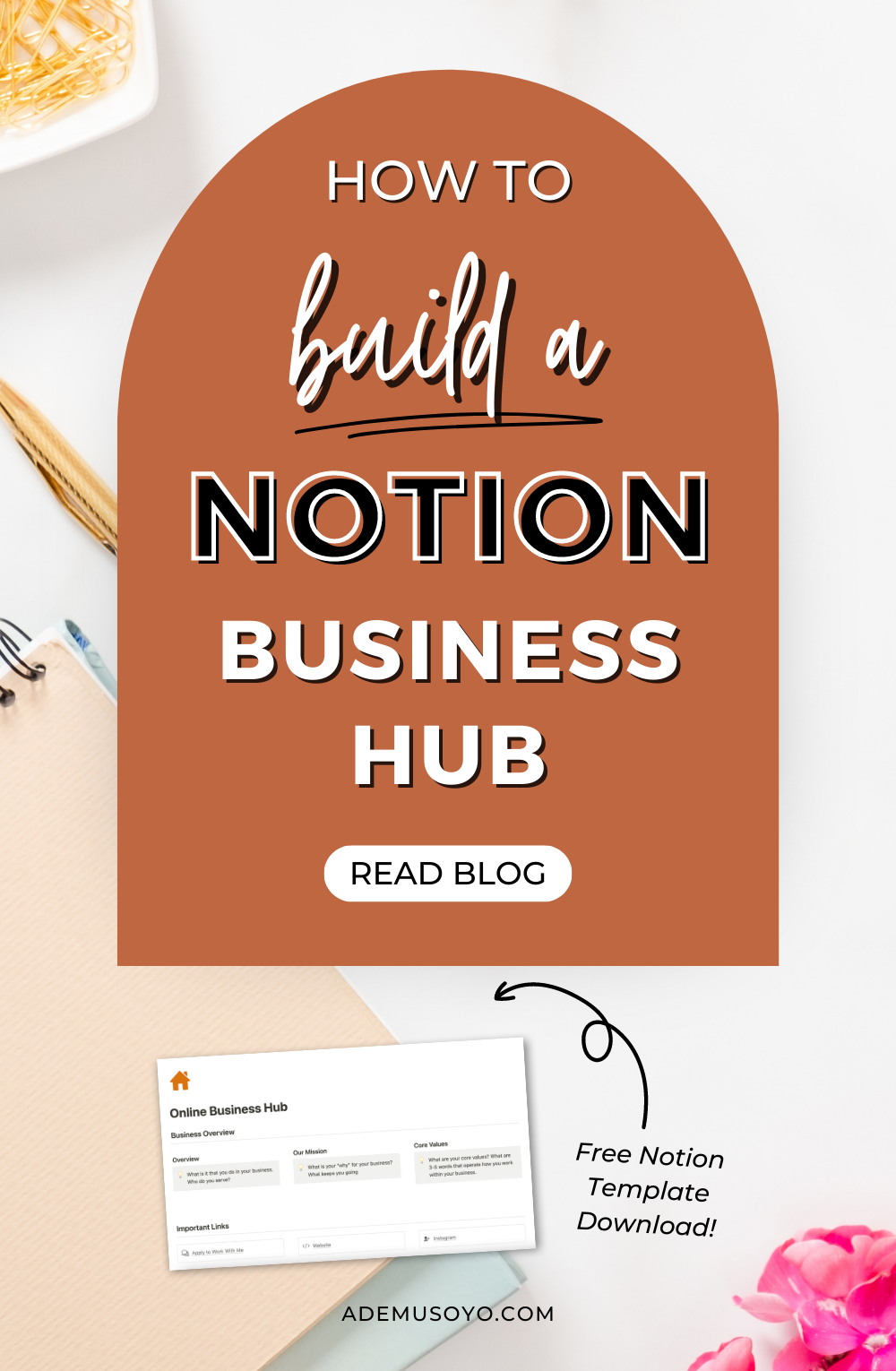 3 Reasons for having a notion business hub
Outside of the things that you can do within Notion, having a centralized Notion Business Hub is necessary. For business owners and entrepreneurs, we need to be able to effectively run a business without getting overwhelmed so that we can have more time for other areas of our life. Having a business hub can allow you to:
Increase productivity: When you have a centralized place for everything, you're eliminating distractions and can dive right into the work.
Improve time management: Quickly accessing things or setting up automatic workflows allows you to be more effective with how you spend your time.
Centralized systems: Whether you're a team of 1 or 100, having a centralized place to manage all of the different aspects of your business is key to maintaining your sanity and not running around everywhere to do everything.
How to create your own notion business hub
My YouTube video gives you an entire run-through of how to create a business hub in Notion. However, I'll share what my Notion Business Hub looks like below.
Business Overview
The first thing that I have is my business overview. My business overview has my help statement, my mission, and my core values. I just like to have that top of mind. This is to make sure that I'm always staying focused, and making sure that what I'm doing and any opportunity that I take on really falls in line with these buckets.

Important Links
Next, I have my important links. For me, my important links are my services, applying to work with my me, and my Calendly link. This is really good for when I'm on the go and someone's like, "Hey, can I book a call" or "Hey, like, what's the link to this blog post". With these important links here, I'm able to just kind of come to this page, grab it, and then go to where I need to go.

Areas/Departments
Next are the different focus areas/departments that I have within my business. I currently am focusing on operations, services, content marketing, learning, and growth. I'm not always focused on all of these things all at the same time, however, there are projects that sometimes do relate to each of these different areas.

Social Media Calendar
While I do have my main content dashboard, I also have a view of my social media calendar. This enables me to quickly see what's going out today, and tomorrow, and what content still needs to be completed.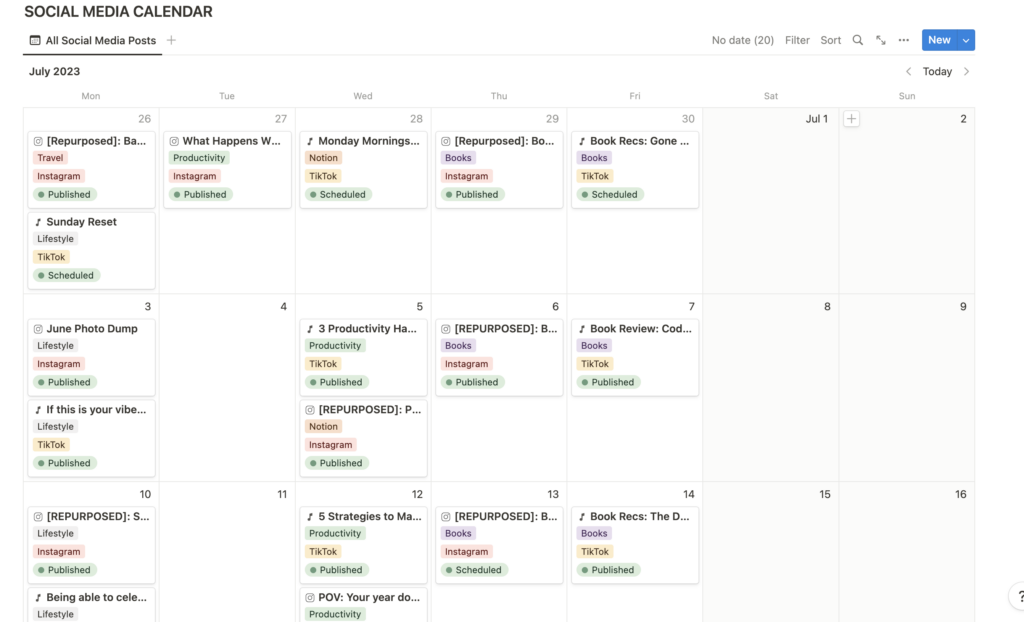 Project Dashboard
Lastly, I have my project dashboard. I have a link to my projects where you can see:
what's ready (this means that I haven't started it yet but I have everything I need in order to get started),
what things are currently in progress
what things are blocked
what things are complete
This allows me to really visualize and see whether I am taking on too much or too little. Or see the things I need to do in order to get things going or how to take things to the next level.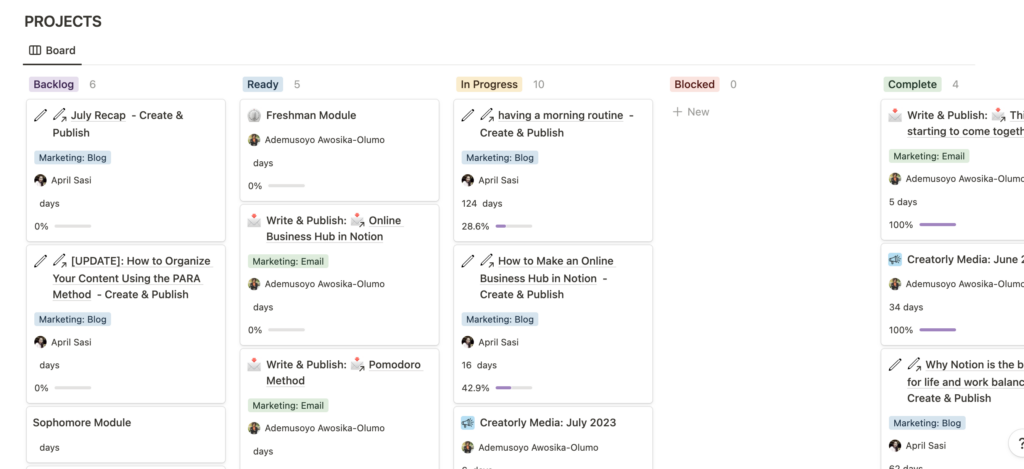 All of these databases are linked so if I want to see a fuller view, I'm able to do that quite easily. This dashboard gives me a snapshot of exactly what I need at a given point. If you would like to get started building your own online business hub, you can grab my free template here.