No matter what time of the year it is, it's never too late for you to start being intentional and start to set and track goals for yourself. Setting and tracking goals allow you to really take note of your progress while making sure that what you are working on is intentional toward achieving your goals and growing your business. Without having goals, it's going to be difficult to make sure that you're aligned with your broader vision which can cause you to feel lost. This article will take you through how to use the all-in-one productivity tool called Notion and how a Notion Template can help you to set & start tracking those goals.
The importance of setting and tracking goals
When it comes to setting and tracking goals, it was something that I personally really struggled with. While I like to consider myself a disciplined go-getter and someone who is always keeping track of things, however, when it comes to setting my own goals and actually holding myself accountable towards them, I used to get really afraid.
I think I was really afraid of those days when it seemed like I was not making progress but I realized that that is all a part of the journey. Now, I see setting and tracking goals as the way to show up for myself and hold myself accountable for my progress. Setting and tracking goals allow you to be more intentional towards your development whether it be for your business or your personal life.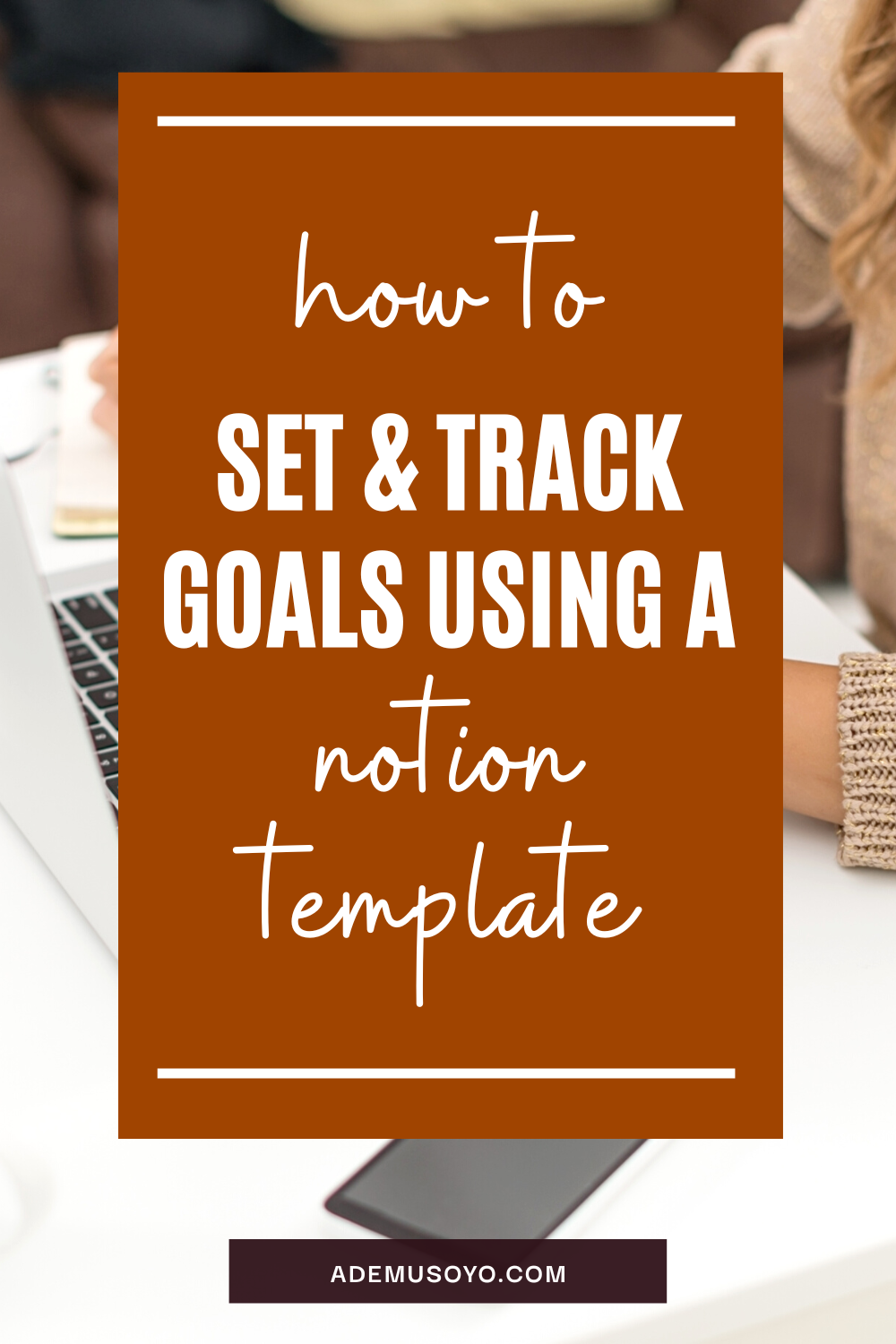 4 Types of goals to set and track in Notion
When it comes to setting goals, whether it be in Notion, on paper, or any other tool, it's important that your goals are something that you can easily quantify and are also actionable as well. If you're not too familiar with this app, check out Notion's API and its features. When it comes to defining your goals here are some things that I recommend you think about to set goals effectively in your life and business.
SMART goals
Your goals should be Specific, Measurable, Achievable, Relevant, and Time-bound (SMART) in order to be the most effective in completing them. Get clear on what you want. Quantify what you need to do in order to achieve it.
Make sure that it is actually something that you can achieve. Ensure that it's relevant to your mission and your values. Give yourself a time frame to complete this goal. Without any of these things, you're setting yourself up to not be able to complete the goals that you want to achieve.
Yearly goals
Setting goals for the year can be really great when giving you a little bit more runway when it comes to achieving everything that you wish to achieve. However, that year doesn't need to start on January 1st. Your year can start a year from today.
Ask yourself when setting yearly goals "A year from now, what would you like to achieve? How would you like to feel?" Make a plan to improve yourself a year from now so that this time next year you can look back and be proud of what you've accomplished.**
Life goals
Setting goals as they pertain to your life can be some of the trickier goals that you can set. There are so many aspects of your life and it can be hard to know what exactly you should be prioritizing at any given point.
When it comes to setting life goals I recommend that you group your goals into the categories such as health (physical, mental, emotional), personal development, career, and relationships. Before setting goals as it pertains to these categories, assess how you feel you are doing in those areas, and then ask yourself what you could be doing better. Be sure to prioritize what you can focus on right now knowing that you'll get to everything that you can.
Business goals
When it comes to setting business goals, especially when you're a new business owner. Focus on setting goals surrounding making money as well as increasing your brand awareness.
By increasing your brand awareness you're working towards building a loyal community of followers and potential customers which can also bring in new customers to your business.
As you start to expand your business, then you can start to be more specific in various aspects of your business. Start broader and work your way towards a more granular level.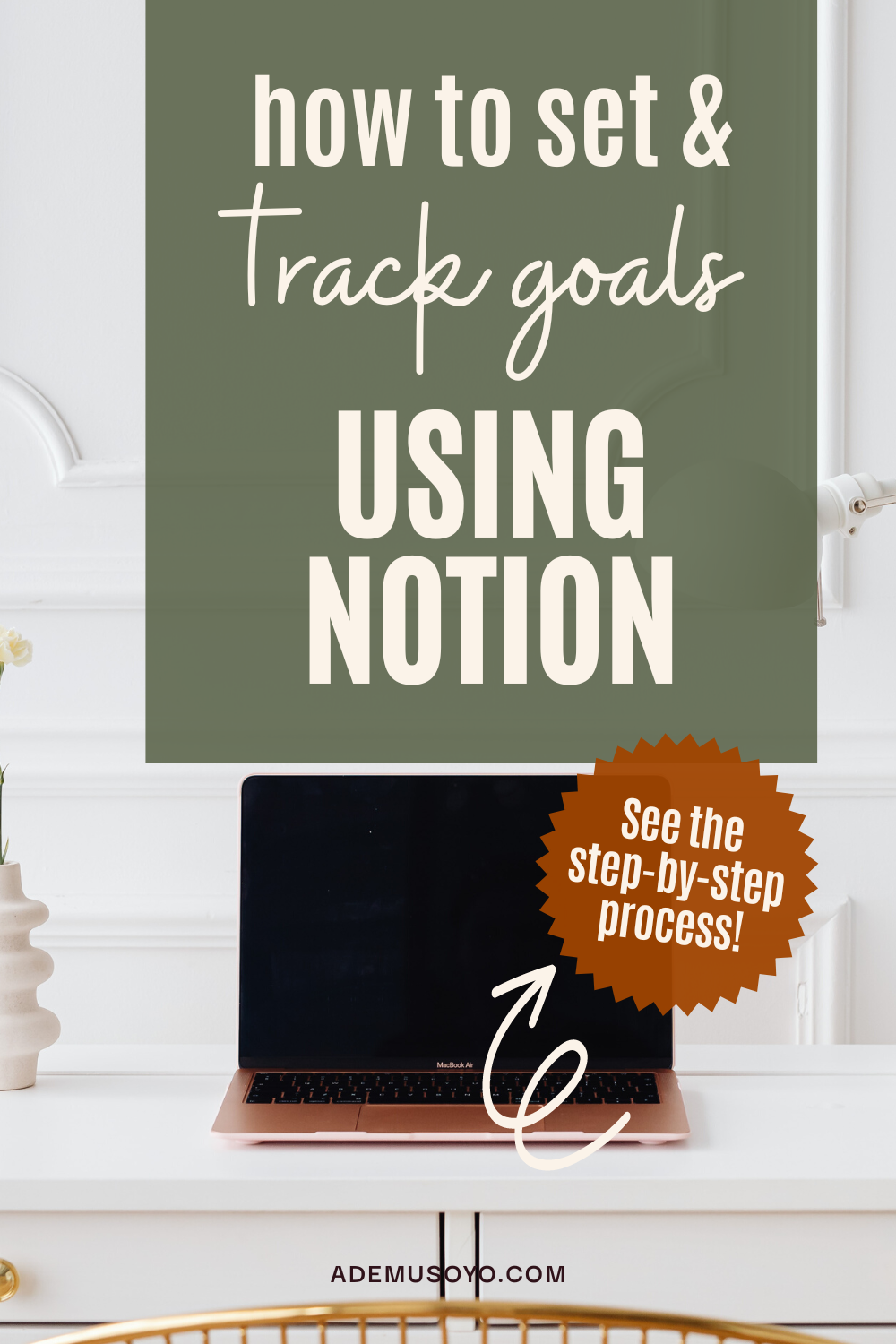 How to set and track your goals in Notion with a Notion Template
On my YouTube Channel, I've uploaded a video that takes you through my Goal Tracking Notion template.
Start with two tables one for your Goals and one for milestones
In the Goals database add two date properties one for Target completion date and the other for the actual completion date. The Milestones database includes two number properties one for the current number and the other for the target number. Additionally, add a formula property that returns true if the current property is equal to or greater than the target property.
Relate the Goals and Milestones Database using the relational property
Make sure the relation exists on both the Milestones database and the Goals database for any additional filtering you may want to add.
Create a template in the Goals Database
Include whatever base information that you want to have plus a linked view of the Milestones Database. In the linked view of the Milestones database, add a filter that will only show the milestones that relate to the New Goal template. Set this new template as the default template for any goals that you create.
Add a rollup property to the Goals database.
Roll up the percentage of the milestones that have been hit and choose how you want the progress to visually be displayed.
Now you can not only quickly plan out your goals and milestones but you also have a quick visual way to see how you're progressing towards your goals.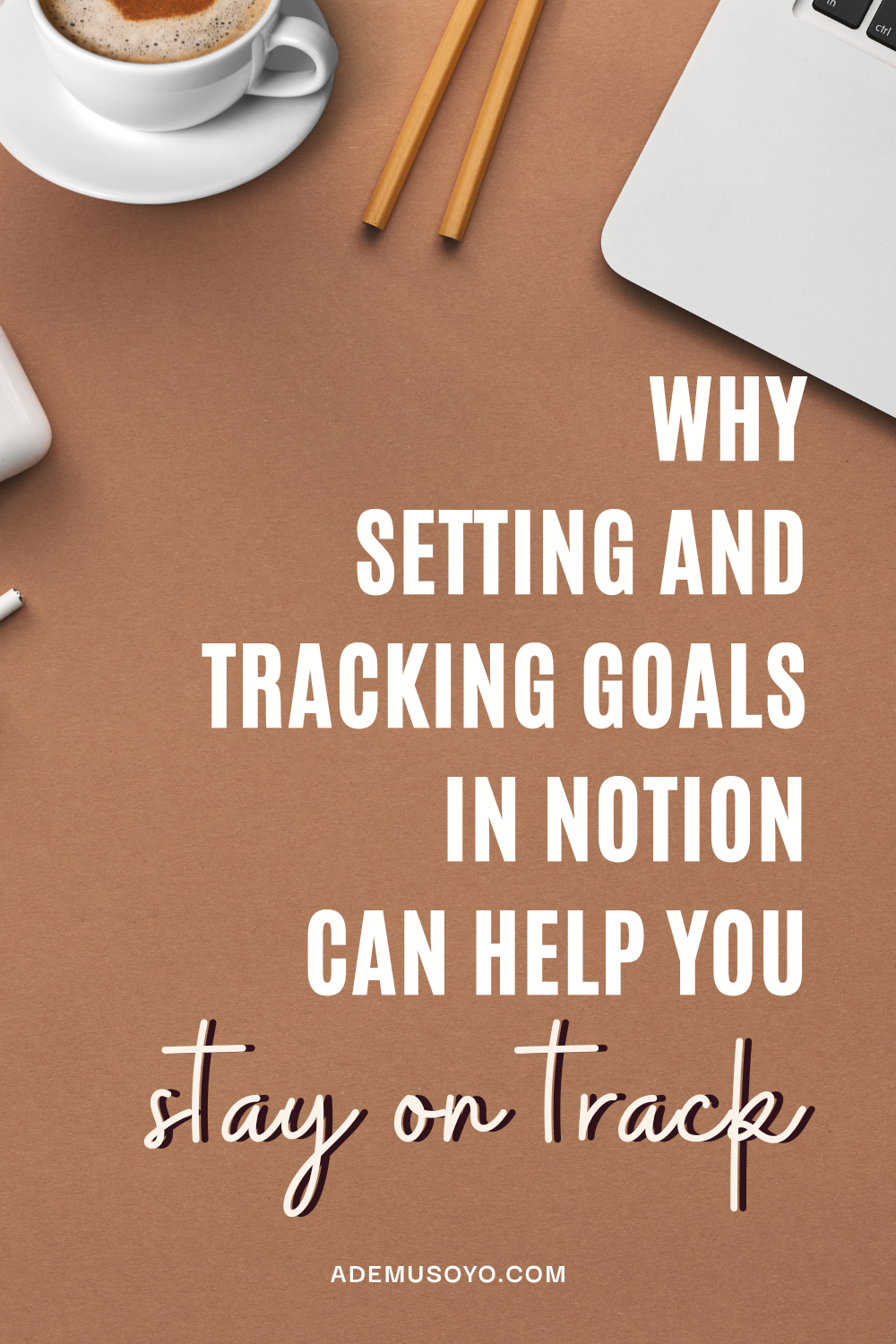 Best tips for how to set and track your goals in Notion
If you're just getting started with Notion, I recommend you start simply by writing your goals on a single page in your workspace. Databases can get pretty complex and if you aren't ready to start using them yet then just write out your goals on a single page.
Once you're ready to take your Notion skills to the next level, that's when you can start to use databases to really enhance your tracking and help you take your workspace to the next level. If you're just getting started with databases, I recommend these tips:
Start with as few properties as possible
Properties should only be created if you feel like you are going to have a bunch of pages that can be grouped by similar properties. For example, if you had a goals database you can have a status property that keeps track of whether you're goal has either not started, in progress, or completed. From that property, you can create multiple views that can be filtered by that property. If you have specific information that is unique to only one page, consider putting them on the page.
Use database templates
Templates can really help you eliminate the guesswork when it comes to outlining your goals. For example, you can create a new goals template in your Goals database that already has some of the headers or other information that you need when it comes to adding a new goal into your workspace. You can also set a template as a default so that on any new page that gets created you can automatically pre-load that template so that it's ready for you to start working in. Database templates improve your workflow with speed as well as efficiency.
Come back and reflect often
It's not enough to just put your goal there and not come back to it. Come back to reflect on what you said you wanted to accomplish, see if it still aligns with what you want to be focusing on, and adjust accordingly. It's okay for your goals to change as time goes by or you receive new information. But when you come back to your goals page and reflect, you are holding yourself accountable for what you said you were going to do and you're checking in with yourself to see if this still makes sense. Don't let your goals get lost in the chaos.
If you're looking for a simple template that will allow you to track your goals easily in Notion, you can grab the exact same template that I use here. You can also check other Notion templates in my shop. I'd love to learn more about what goals you're setting this year! DM me on Instagram or Twitter so I can hear them.
‍