One of the things that I absolutely love about Notion is its versatility. You don't have to use Notion to keep up with your professional use; it can be utilized for various aspects of your life, including managing things within your home or your social life such as a book tracker. With Notion, you have the freedom to create and customize your own system that perfectly aligns with your unique needs and preferences.
One aspect of my personal life that I find particularly enjoyable to track using Notion is my reading progress. Notion provides me with a customizable platform to organize and monitor my reading journey. I can effortlessly categorize the books I read, keep tabs on my progress, and even include additional details such as the book's title, author, genre, and more. Moreover, I can keep track of my ratings, write and save reviews, and jot down any noteworthy thoughts or observations that come to mind while I'm immersed in a book.
Whether you're an avid bookworm or just embarking on your reading adventure, this comprehensive guide will serve as your go-to resource for staying organized and maximizing your reading experience. So grab your favorite book, fire up Notion, and let's dive into the exciting world of creating the ultimate Notion book tracker.
Benefits of using a book tracker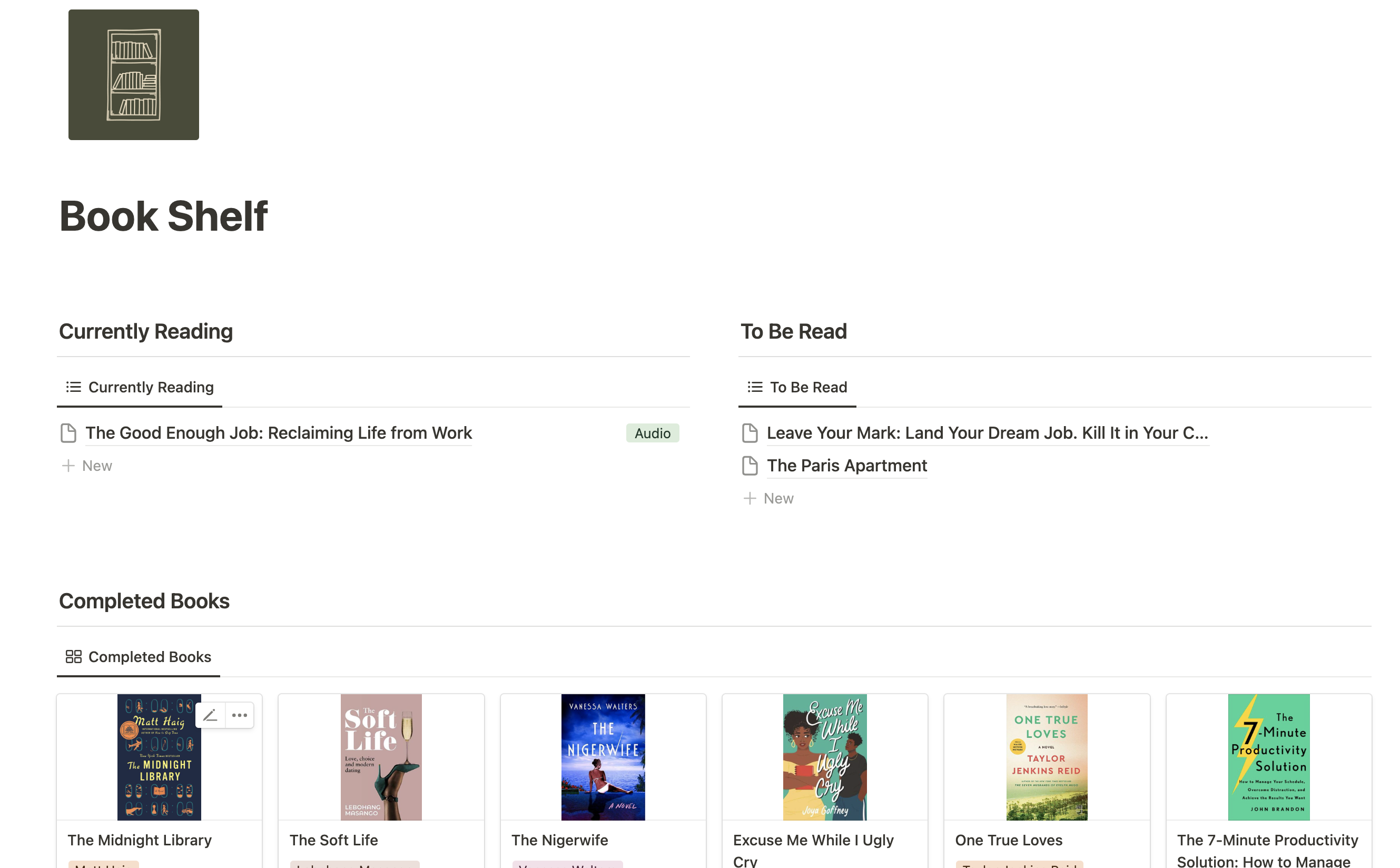 Before using a book tracker, I felt like I didn't really have a good understanding of what I was reading and how long it took me to read a book. I was always someone who liked to read, but I found myself forgetting about the books that I read or even when I read the books. By having a place to keep track of the books that I read, it felt like I had the information that I was learning within the books written at my fingertips. When you use a book tracker, you're able to:
See how frequently you finish a book
Filter your books based on genre or author
Keep your notes from your book in one particular place
Quickly add books to your list that you plan on reading.
How do you make a book tracker on Notion?
Setting up your workspace in Notion
To begin, we will start with a completely empty page. Instead of immediately creating it as a database on a new page, I suggest exploring other options. By doing so, you will be able to utilize various views of the database, all conveniently accessible within a single page. This approach will provide you with more flexibility and enhance your overall experience.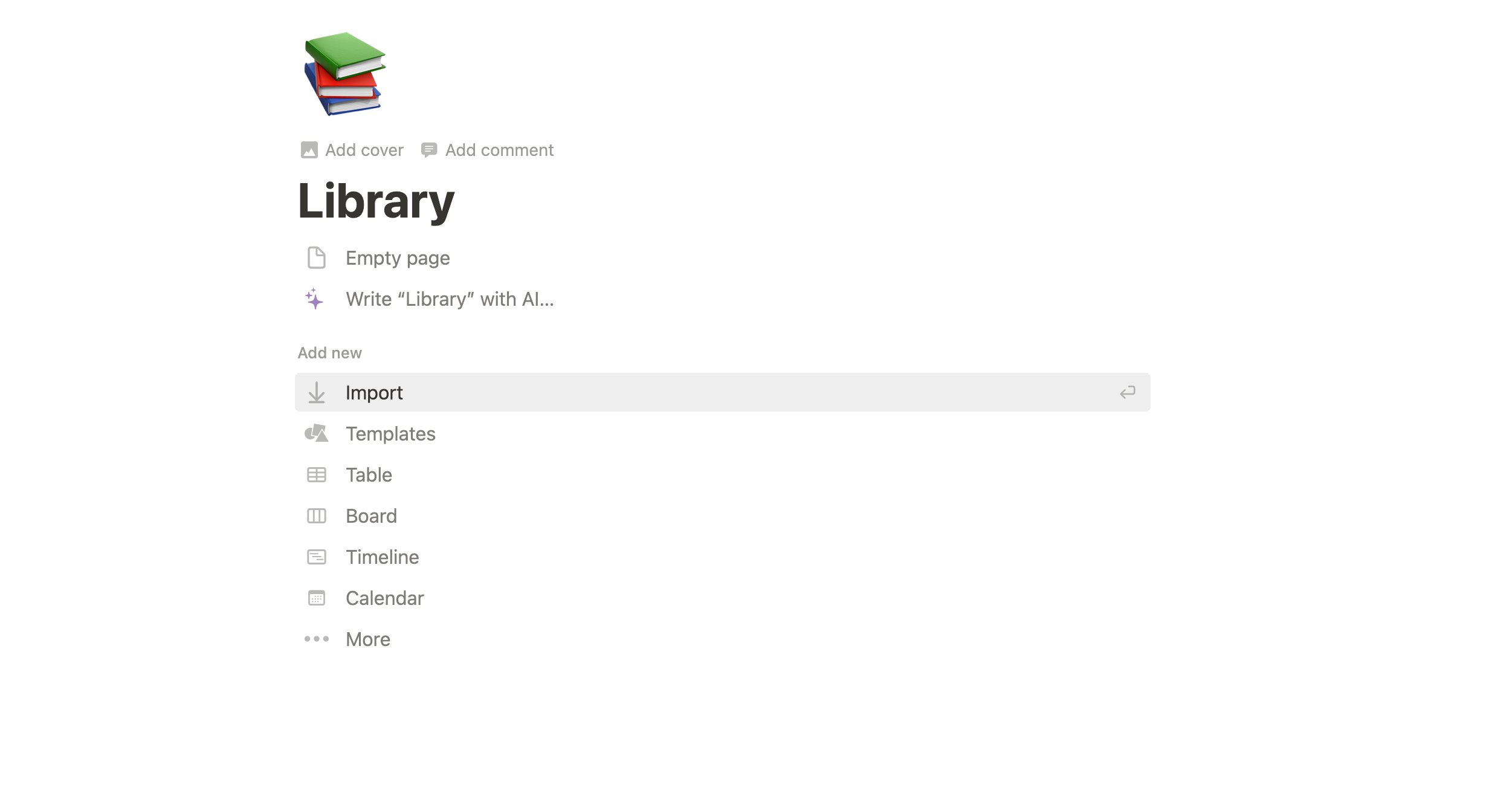 Creating a book database in Notion

Now that we have our page, we're going to create a database with a table view. I always like to start with tables, because you can, add the properties a little bit more easily. The properties that we will include in our database:
Book Title: We're going to change this property "Name" to property Book Title as a text property.
Author: The author of the book is a multi-select property. I prefer this as opposed to a text property because we might read books from the same author.
Page Numbers: The number of pages within a book
Genre: A multi-select property to categorize your book by genre
Type: The format you're reading the book (e.g.: Physical, Digital, or Audio)
Rating: A select property for a 1 to 5-star rating
Book cover: A file/media property that is perfect for adding a little bit more of an aesthetic.
Status: The status property to keep track of the books that you're reading. The statuses that you have are

To Be Read
Currently Reading
Finished
Did not finish

Date Finished: The date you finished the book
One sentence summary: A brief summary of the book.
Now that you have the properties you can now work on adding books to your list.
Adding books to your tracker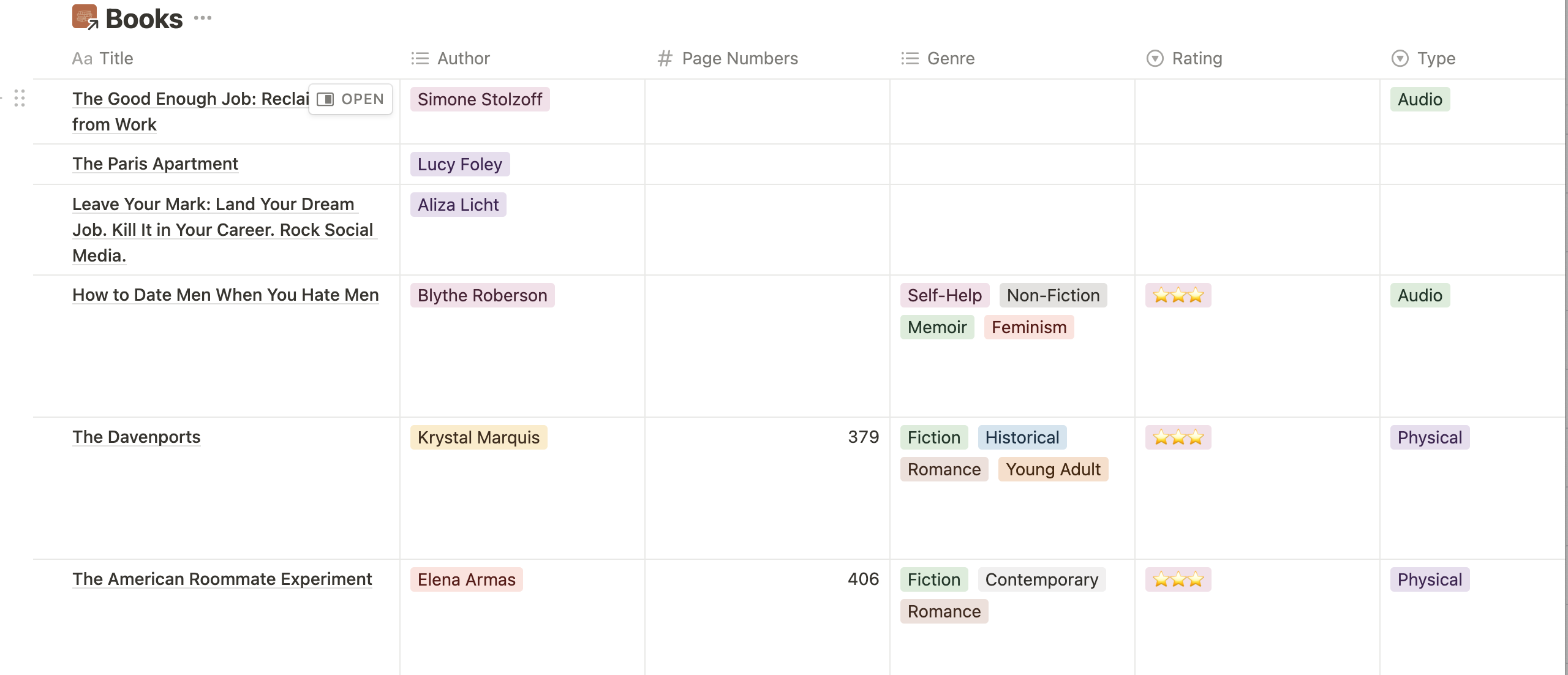 You have the option to add books to your database in two ways: manual entry or using an Excel spreadsheet. If you have been an avid reader for a substantial period of time, I would advise against attempting to add all of the books you have previously read into your database at once, unless you truly have the desire to do so. The task of backfilling your entire reading history can be overwhelming and time-consuming. Instead, I suggest using this tracker exclusively for any new books that you read, while leaving the previously-read books in their original locations.
As you add books to your database, I encourage you to take an extra step and organize them effectively as soon as you add them. By doing so, you will be able to create custom views that provide a visually appealing representation of your progress and have better organization going forward.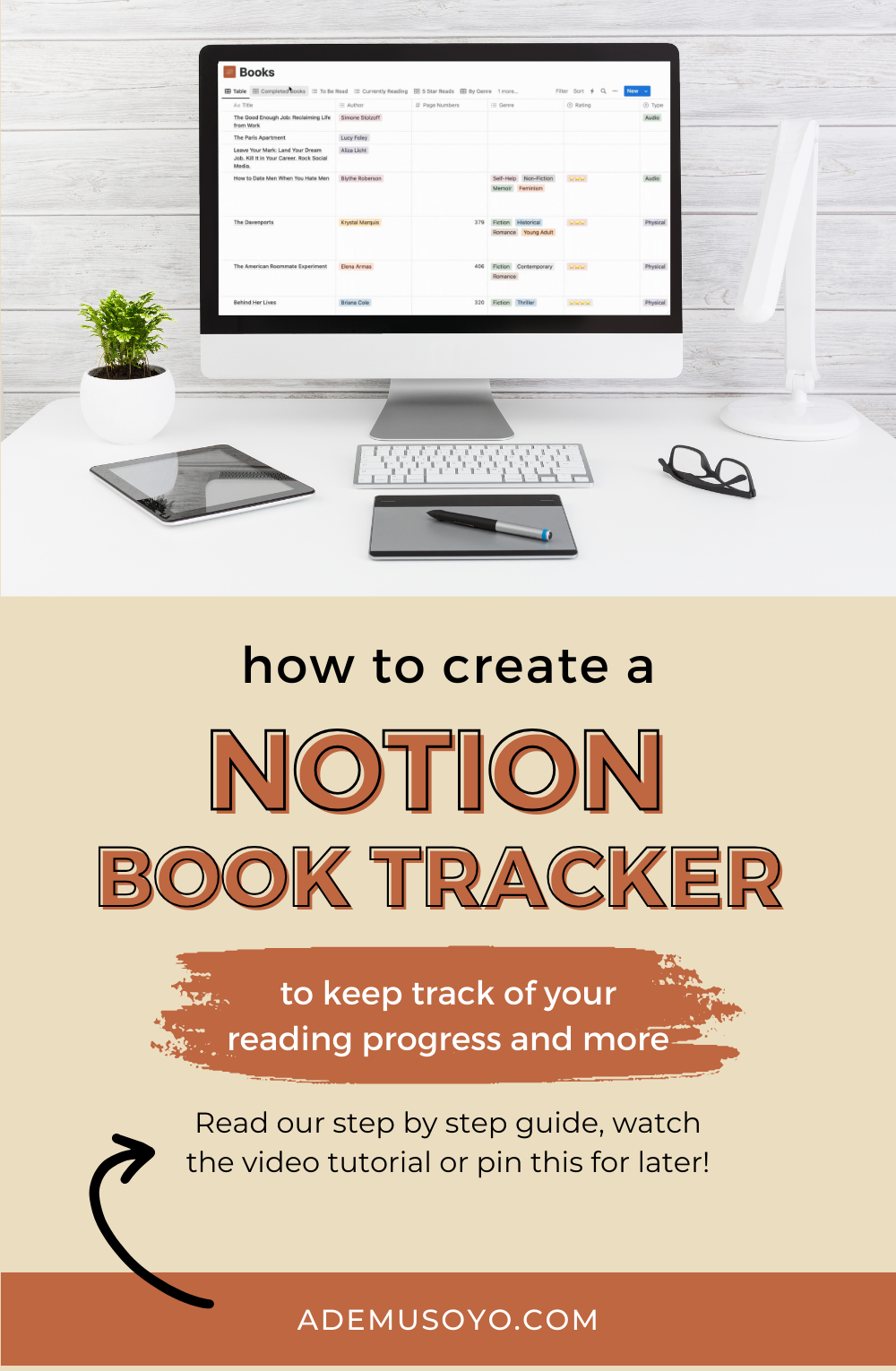 Tracking reading progress and setting reading goals
One of the advantages of using Notion to keep track of your books is the ability to link your book reading to other areas within your Notion workspace. By doing so, you can easily connect and integrate your book notes with other relevant information in your workspace. This is really beneficial if you're reading a book that can provide valuable insights for your business or personal growth.
Additionally, if you're already tracking your goals within Notion, you can take it a step further by setting book-reading goals and monitoring your progress over time. Notion allows you to bring together different ideas and concepts in one centralized location, enabling you to create a comprehensive knowledge hub and expand your intellectual capabilities.
By leveraging Notion's features, you can seamlessly integrate your book-reading activities into your overall productivity system, ensuring that your books, notes, goals, and ideas are all interconnected and easily accessible. This holistic approach to managing your knowledge will empower you to build a robust second brain and unlock your full intellectual potential.
Using filters and views to organize and analyze your reading data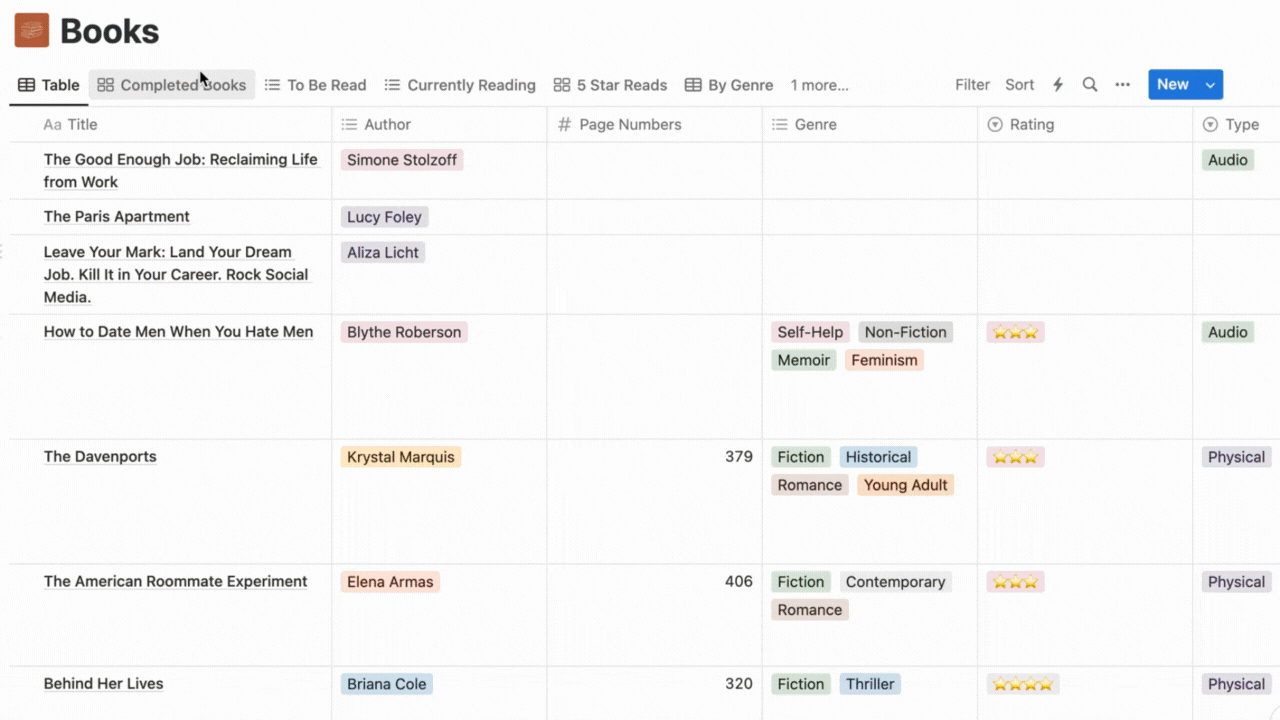 Because we added different properties when originally creating our Books database, we can now create custom views based on these properties. This allows us to see specific information in a more focused way. Here are some examples of custom views that you can create:
Completed Books: Shows books with the status "Finished"
To Be Read: Displays books with the status "To Be Read"
Currently Reading: Highlights books with the status "Currently Reading"
5 Star Reads: Filters books with a rating of 5 stars
By Genre: Groups books together based on their genre
The possibilities for creating views are endless with these properties alone. As you continue to use your Book Tracker, you will discover and develop new views over time.
Integrating your book tracker with other tools and apps
While having your book tracker in Notion doesn't really provide the social aspect that using other tools like GoodReads or StoryGraph, you can always cross-post there so that you can share your readings with others! Or you can share your book tracker with a friend if you want to keep track of the books that you all are reading together!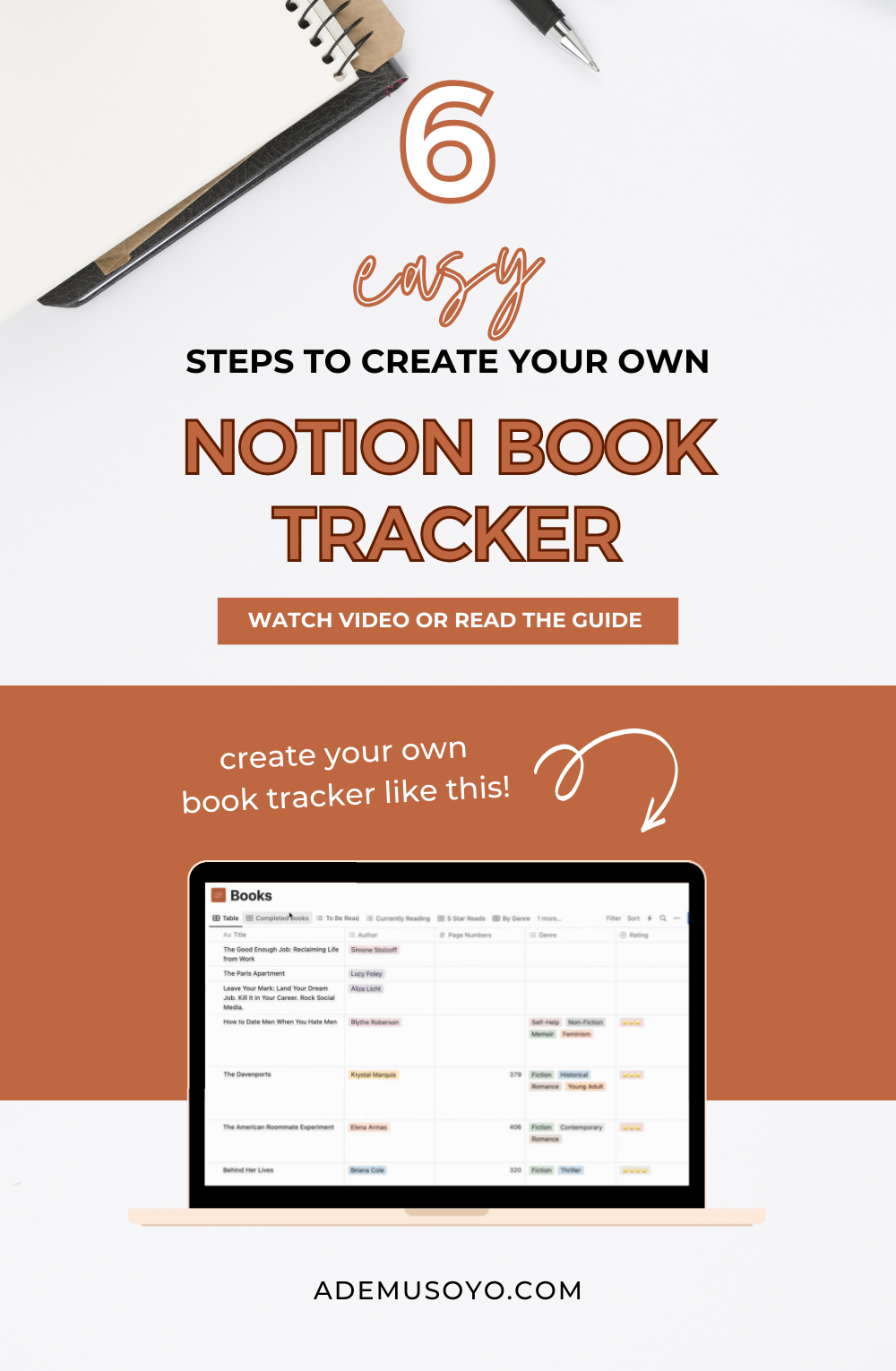 Conclusion and next steps
Keeping track of things within your personal life is a great way to learn more about yourself and really visualize your progress. If you'd like to get started keeping track of your books, I encourage you to purchase my book tracker template on my Notion shop!