Establishing business goals for your business allows you to measure your success as you continue to work on building your business. There is immense value in goal setting because it allows you the chance to reflect, level set, and create. a new action plan that can lead to future success for your business. As entrepreneurs, we can get laser-focused on the day-to-day of our business, but it's important to make sure that the day-to-day actions that we're taking strive for the bigger picture. If you're wondering how to set up yourself and your team for success when it comes to achieving your goals, keep reading.
Identify your long-term vision
Take a moment to ask yourself how you want to feel about your business a year from now. Then take a look at how you feel 5 years from now. Now ask yourself how you want to feel about your business 10 years from now. When it comes to focusing on the long-term vision of your business, your vision falls in between these four categories:
Service: improving your offers and the customer experience
Social: making an impact within your community
Profit: Increasing your revenue
Growth: Expanding your business either with people or new offerings
I recommend when trying to envision the long-term vision for your business, use a whiteboard or pen and paper. You should be able to freely dream and plan with nothing off limits and you don't try and narrow in the scope. No plan is too small when it comes to your business goals.
Narrow in on your short-term objectives
Now that you've done the work to envision a long-term vision of your business, it's time for you to narrow in on the short-term objectives. Your objectives need to be SMART: Specific Measurable Attainable Relevant Time-bound. When it comes to setting your objectives here are some questions to ask you:
How can I quantify this objective?
What area of my business does this objective focus on?
Does this objective make sense within the current stage of my business?
Does this objective map to any part of my long-term vision?
When should I have this done?
When it comes to setting S.M.A.R.T. objectives, I recommend you put a big emphasis on specific and measurable. As a business owner, you're going to want to make sure that the decisions that you make are data-driven decisions.
Data-driven decisions allow you to take the emotion out of what you need to be doing for your business and to just focus on the facts to help you make even better decisions.
Determine your key performance indicators (KPIs) in relation to your business goals
In connection with your objectives, you need to identify Key Performance Indicators (KPIs) for your business. KPIs are the different data points that you can track weekly, monthly, or quarterly throughout different areas of your business. KPIs need to be numeric. Here are some examples of KPIs based on different departments within your business:
Marketing: Instagram Followers, Website Page Views, Email List Subscribers
Sales: Revenue, Sales, Expenses, Goals
Operations: # of team hours worked, employee satisfaction
Depending on where you are in your business, your smart objectives may not align with every single department that you have within your business, and that's okay. The important thing is that you outline 1-3 data points for each objective that you can track on a consistent cadence.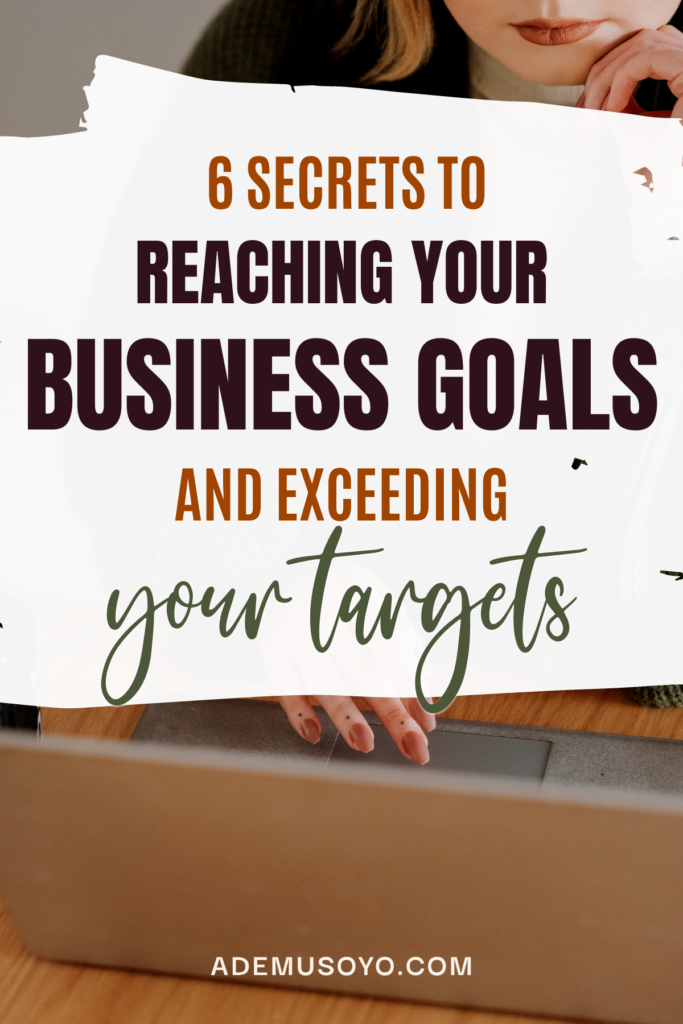 Your business goals should keep you and your team on the same page
It can be easy to lose sight of the bigger picture as you go through the day-to-day of your business but it's important that you always try to make sure everyone is aligned and is working towards that bigger goal. If you have a team, you should make sure you share out your bigger objectives for your business so that your team can help you in achieving those business goals.
A good way to align your team to your objectives is to assign an owner to each objective. Giving your team ownership of things will enable them to feel responsible and more a part of the company. Keep in mind that you are the CEO so it is your responsibility ultimately to see things getting done accordingly. However, it doesn't mean you can't delegate and check back in every so often. You need to make sure that your business goals are clear and actionable.
Stay organized and track the progress of your business goals
Organization as a business owner is key when it comes to managing your business and setting smart objectives for your business. You want things to be visible and quickly retrievable especially when there are so many moving parts to managing a business and serving your clients.
I personally implemented the PARA method in Notion to keep things organized so that I can visually see what's going on across different departments and different focus areas within my business. Whatever tool you use, make sure that you have an organizational system that is scalable.
Make a routine of tracking your progress. Tracking your progress towards your business goals allows you to see how much closer you are to getting there which makes your objectives even more attainable to help you achieve your success. You can also identify where and why you may be falling short of achieving your business goals. It can be scary looking at the numbers for your business, but don't let it scare you. Remember, numbers are there to give you information and to help you make data-driven decisions.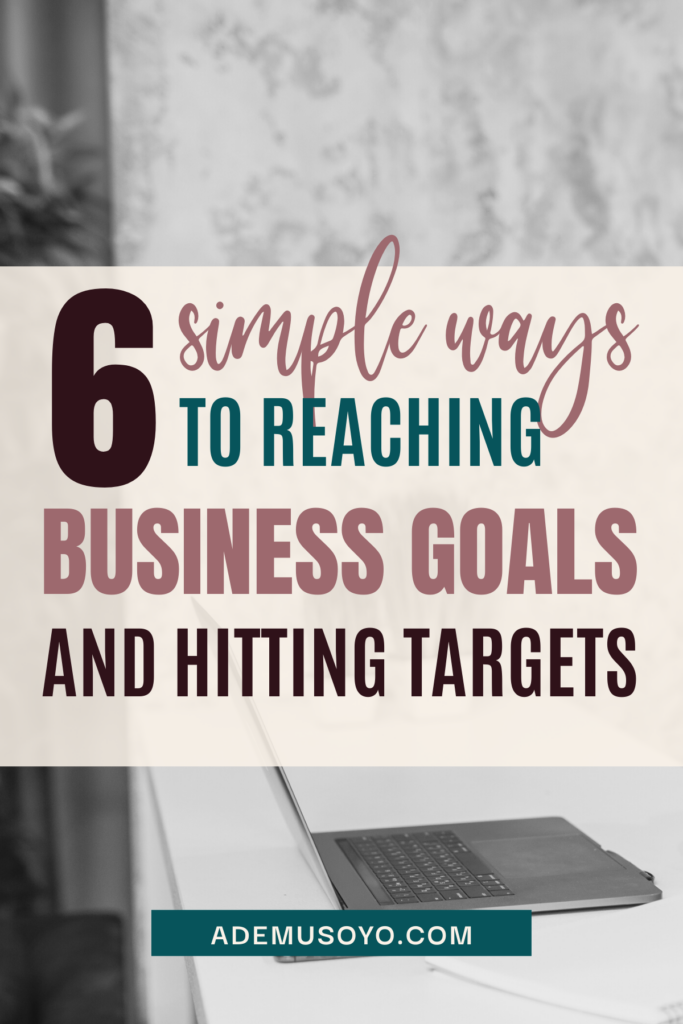 Be Consistent
Now that you have a plan, it's time to take action! Consistency is going to always win out over anything that you could do! You have to put in that working day in and day out even when it feels like it's tough. Remind yourself of the bigger picture and make sure that you still are in alignment with that picture. If you aren't in alignment with that picture, don't be afraid to pivot.
Pivoting is an essential part of growth as a business owner and it doesn't mean that you are a failure, it just means that you have something more that aligns with you. However, if you are thinking about pivoting, ask yourself if you have enough information to pivot. Consistency will give you all the information that you need.
These are all my tips for successfully achieving your goals for your business! If you're interested in talking more, DM me on Instagram or Twitter.