In order to create content consistently, you need to have a content strategy as well as an organizational strategy. Otherwise, you're just gonna burn yourself to the ground. A good organizational system will make your content creation process a lot smoother than just having a content creation strategy. In this video, I'll show you how to make your own Notion social media content calendar, my all-time favorite tool.
Keep your social media accounts organized and up-to-date with a Notion-based social media content calendar. With it, you can easily plan out upcoming posts and track your content performance all in one place in just a few simple steps.
What is Notion?
Notion is an all-in-one productivity tool that lets you manage projects, keep track of documents or write a journal. You can do so many things in notion. One of the reasons why I like notion so much is that you're able to build things to your liking. A lot of the tools that you may use are only structured to be used in one way. With notion, you start with a blank slate, allowing you to continuously customize and tweak things as your business expands or as you discover better ways to increase your productivity and organization.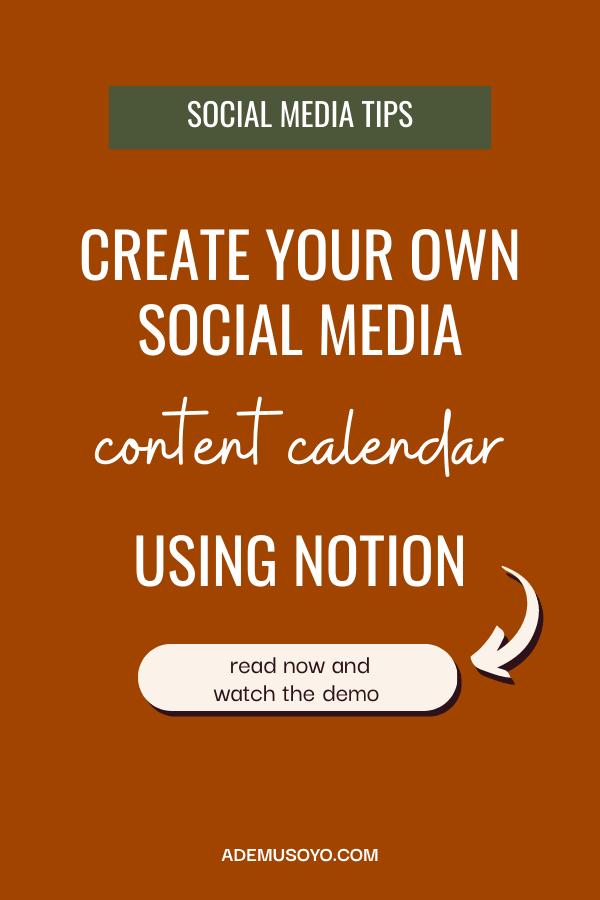 How Notion Helps Me Stay Consistent
Notion helps me maintain consistency in a way that makes it possible for me to observe everything that is happening, not just throughout my entire business but particularly with my content. With my Notion social media content calendar, I can see what content will be posted and where I can monitor its status, such as what stage it is in, etc. I can also monitor analytics and reports regarding my content and how it is doing across various social media platforms.
Watch This Notion Social Media Content Calendar Demo
If you would like to get your own notion content calendar, click here or read more on how to build your editorial calendar with Notion in one of my blog posts.