Having a consistent flow of social media content ideas is a great way for you to expand your overall brand awareness to generate new leads and sales for your business. However, without a plan in place, you're going to get burned out from creating so much content because of the need to constantly be creating new content ideas. If you're looking for a better way to plan and organize your social media content ideas, keep reading to learn more about my process.
Organize social media content ideas by creating your content pillars
Establishing 3-5 pillars for your content is a foundational step in order to keep your social media content ideas focused on the growth of your business and also relevant to your audience. Content pillars are the overarching themes of your brand and/or business that allows you to showcase your expertise, inspire your audience, and promote your services. When you have content pillars and you're trying to generate new ideas, you can make sure that the social media ideas that you are generating are more targeted and focused on building your brand.
You never want to have too many content pillars. At a minimum, you should have 3, and at a maximum, you should have 5. This is so that when your ideal clients are keeping you in mind, they're able to easily and more quickly identify what you do. Also, it's a lot easier to rotate between your 3-5 content pillars throughout the month than it is to rotate between 7. Your content pillars will be how you establish authority with your brand but also allows you to minimize the scope when trying to come up with new ideas. Learn how to create your content pillars for social media here.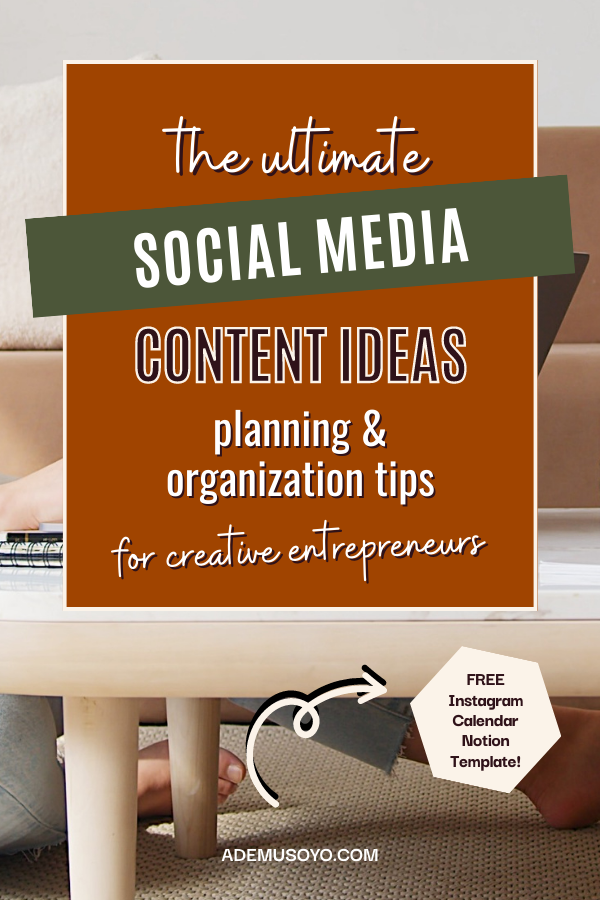 Create sub-pillars within your content pillars
If you're at a point where you're like I have so many ideas I need to talk about all of the things, then you should consider creating sub-pillars within your content pillars. I think sub-pillars are a great way for you to provide prompts for yourself when it comes to generating social media ideas because they further zero ins on your focus for new ideas. For example, let's say you're an Instagram Strategist and you have a content pillar called Instagram. You could have sub-pillars called reels, hashtags, Instagram updates, and carousel posts. Now, when you're generating new social media ideas you can generate ideas that map to those sub-pillars, and you have a post planned for every week.
Gather your list of social media content ideas & map them to your content pillars
Now that you've mapped out your content pillars, this is where you can start generating your ideas. Spend 20-30 mins jotting everything down centering around your content pillars and sub-content pillars. One efficient way you can do this is by breaking this down further and spending 3-5 mins coming up with social media content ideas for each idea separately instead of trying to do it all together. If you're planning for a month ahead, you need only 4 ideas for each content pillar. You should be ready to go in no time!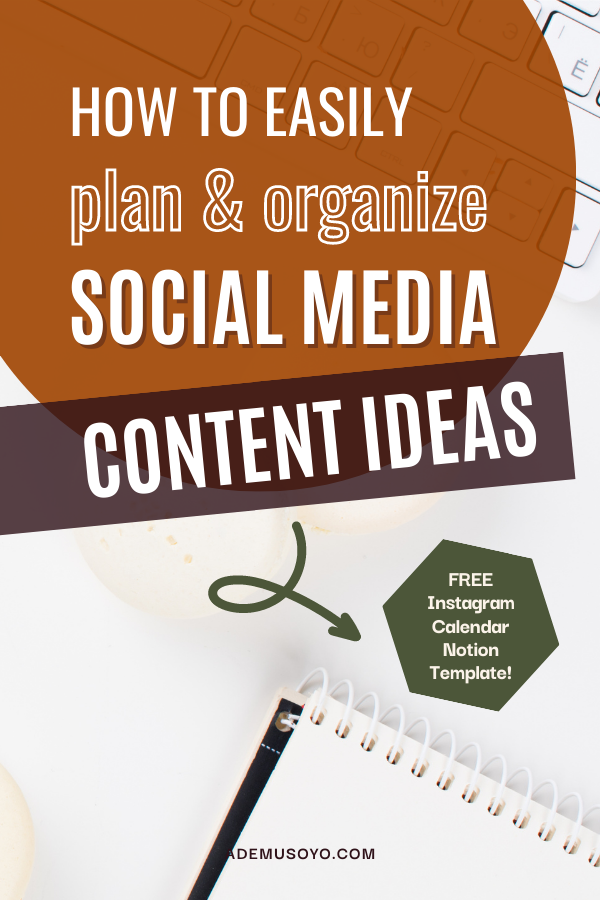 Have a direct call to action (CTA)
Having a direct call to action will insure that your social media content ideas not only attract your ideal clients but also nurture and convert your audience as well. If you're looking to promote your services, have a direct call to action to be to click the link in your bio. If you're looking to have people engage and comment on your content, tell your audience to comment down below. You need to direct your audience to the next step in the journey that you want them to go otherwise, they aren't going to be going anywhere.
Including a call to action will allow you to better track how your content is performing and what you need to do to better improve your content. For example, if you asked people to comment and you only got a few comments, it's time to look and see what things could be tweaked that would better connect to your audience.
One thing that you need to remember is that when it comes to your social media content ideas, you can always continue to reuse them. You shouldn't post your ideas only once because you may have new people who have joined your audience or people in your audience may have not seen it the first time. Keep circulating and repurposing your ideas and that will create better connectivity to your content. If you're ready to start creating content, grab my Instagram Planning Template and get started today!