The best quality content is content that has come from a place of innate creativity. The best way you can do that is to provide yourself with a bit of a framework. This is where your content pillars for social media come in – to get those creative juices flowing in a way that is organized and intentional. If you'd like to know and understand the exact content pillar strategy that I use for my client's content, keep reading.
What are content pillars?
Content pillars are overarching themes in relation to your brand or business. It should cover a little bit about you as well as your business while tying into your long-term business goals. They should allow you to educate, inspire, and encourage your audience as well as showcase your expertise.
Having content pillars will enable you to brainstorm new ideas more quickly by focusing on specific topics rather than trying to brainstorm everything under the sun. Your content pillars for social media will also allow you to clearly convey your brand message to your audience and your business's direction so that every piece of content you post is intentional.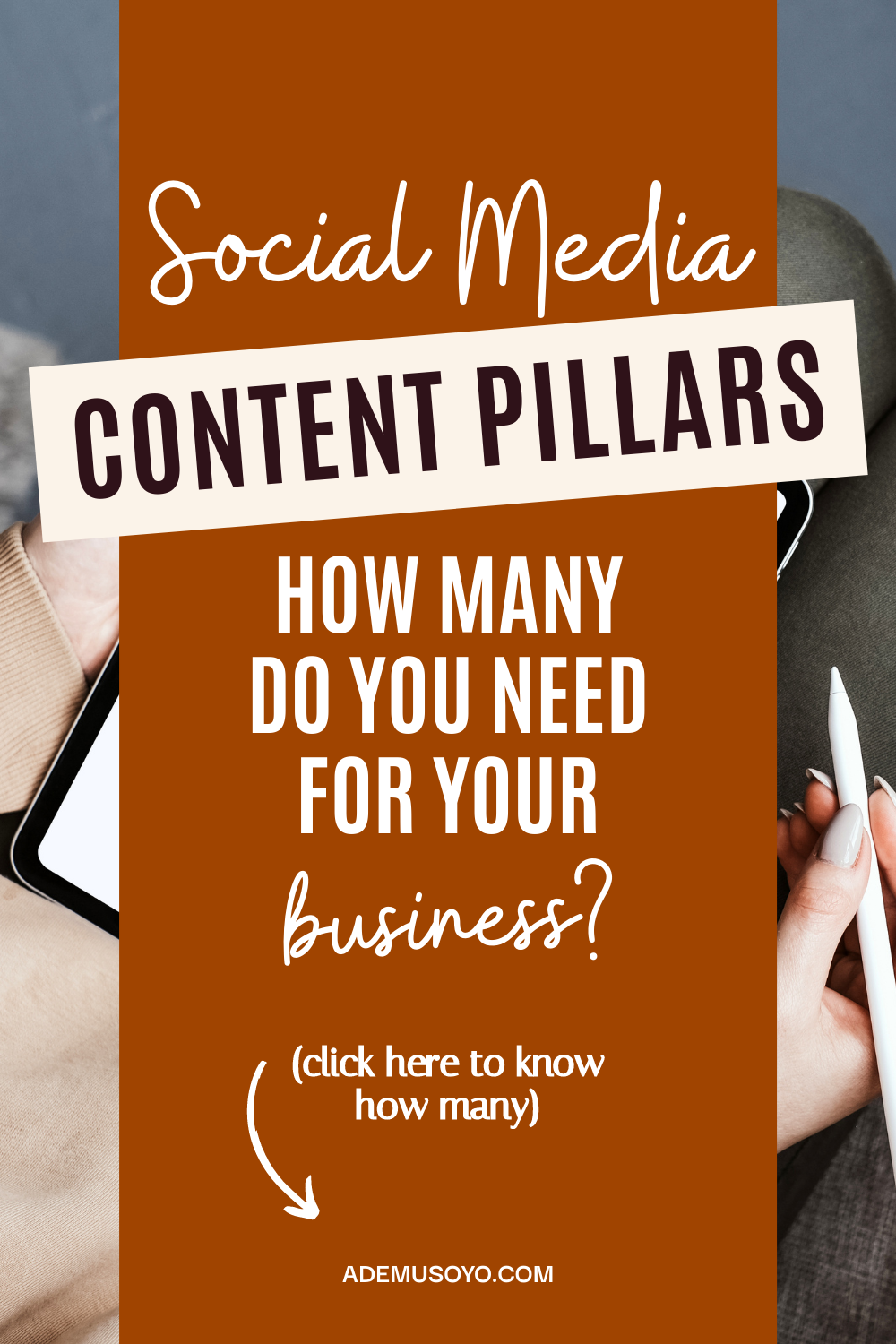 Why do you need content pillars for social media or for your business as a whole?
Content pillars are essential because they allow you to stand out amongst everyone else within your industry. Even if others in your industry might be doing the exact same thing as you, you are providing your audience with unique value because your content pillars differ greatly from those of your competitors. The key to differentiating yourself from the competition is to incorporate a personal element into your brand. Everyone could be covering the exact same ideas, but not everyone is going to cover them exactly like you.
Content pillars are also great ways for you to evaluate how your content is doing. It's easy to post content that isn't in line with your business's direction or customer journey without the structure of content pillars. And without everything being in alignment, your content, therefore, serves no purpose. Content pillars also help to keep track of your content strategy performance from month to month. Rather than looking at your content holistically, you can dig deeper and fine-tune your strategy this way.
How many content pillars do you need?
The true answer is, it really depends. If you're just starting out with creating content, I definitely recommend you start with three content pillars. If you are more advanced in your content creation process, then I recommend you lean towards having five content pillars.
Each of those content pillars needs to be covered at least three to four times on a particular platform over the course of a month. It's not advisable to devote an entire week to discussing just one of your content pillars. Rather, you want to keep reinforcing those ideas on social media. What your brand is, what it is about, and what you are offering your customers. This way, your audience knows exactly what they can come to you for.
For example, I have five content pillars that I talk about on social media. These are:
productivity
personal branding
content strategy
tech
a little bit about myself and being an entrepreneur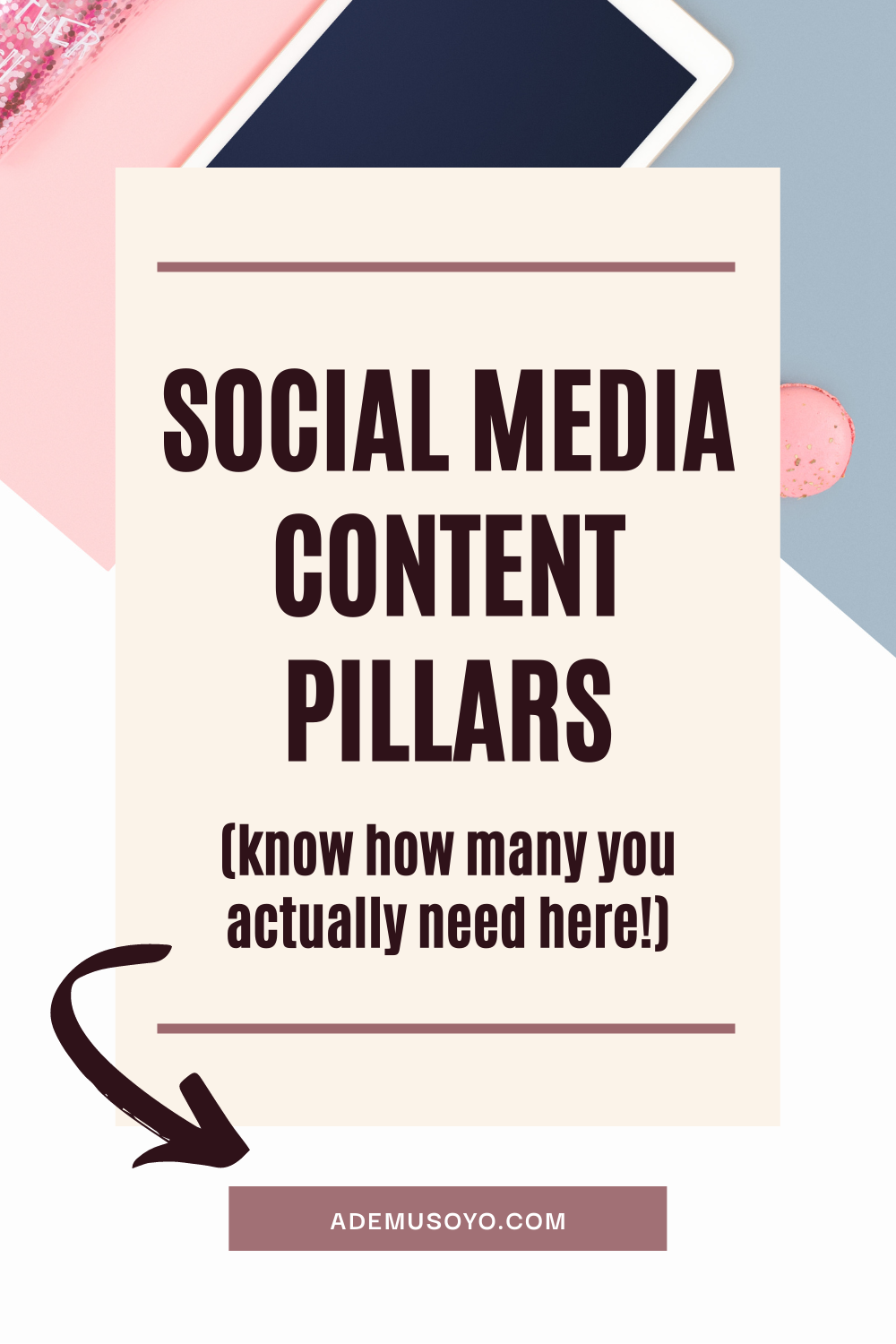 The reason I do this is that I am a content marketing strategist. A big part of what I am offering my clients is content marketing and personal branding solutions and strategies.
Additionally, I am super passionate about productivity. I feel that productivity is really key to building your brand and creating content. Along with getting to know me a little bit better, I also want people to get to know the person behind the brand. This is crucial if I want my audience to have confidence in me while building a community in my little corner of the internet.
I want to emphasize how important it is to limit your content pillars to five. If you have more than that, both you and your audience will become confused about what you're actually about. Try to integrate some of your content pillars and use subtopics if you really feel like you have a lot more to say. This allows you to highlight how committed you are to the main idea while focusing on something distinctive that sets you apart from the competition.
Are you ready to have your content match your brand and your business goals? Then it's time to make sure that you have the right foundation in place. My Content assessment will enable you to self-assess precisely how your content strategy is performing. It will also provide you with the skills and resources you need to start developing your content and getting you to the next level. Get in touch with me today or subscribe to my newsletter to learn more.